I am embarrassed to admit that I actually like the shorter days of autumn. Seriously! During the long daylight hours of summer, I need to be outdoors from sunrise to sunset. When darkness hits about 6:00, I treasure evening in the cosiness of our home.
Now that the fall schedule is in full swing, I teach piano lessons until the moment I'm ready to drop from hunger. When I'm hungry, I'm grumpy. When I'm hungry and know that supper still has to be prepared, I turn into an impossible grouch. I don't want to be that grouchy piano teacher that children avoid!
Slow cookers are such a great invention, and autumn brings all sorts of lovely root vegetables to the menu. This stew includes potatoes, carrots, sweet potatoes, and parsnips. But if you have rutabagas and turnips on hand, throw them in too! Life is a party in the crock pot!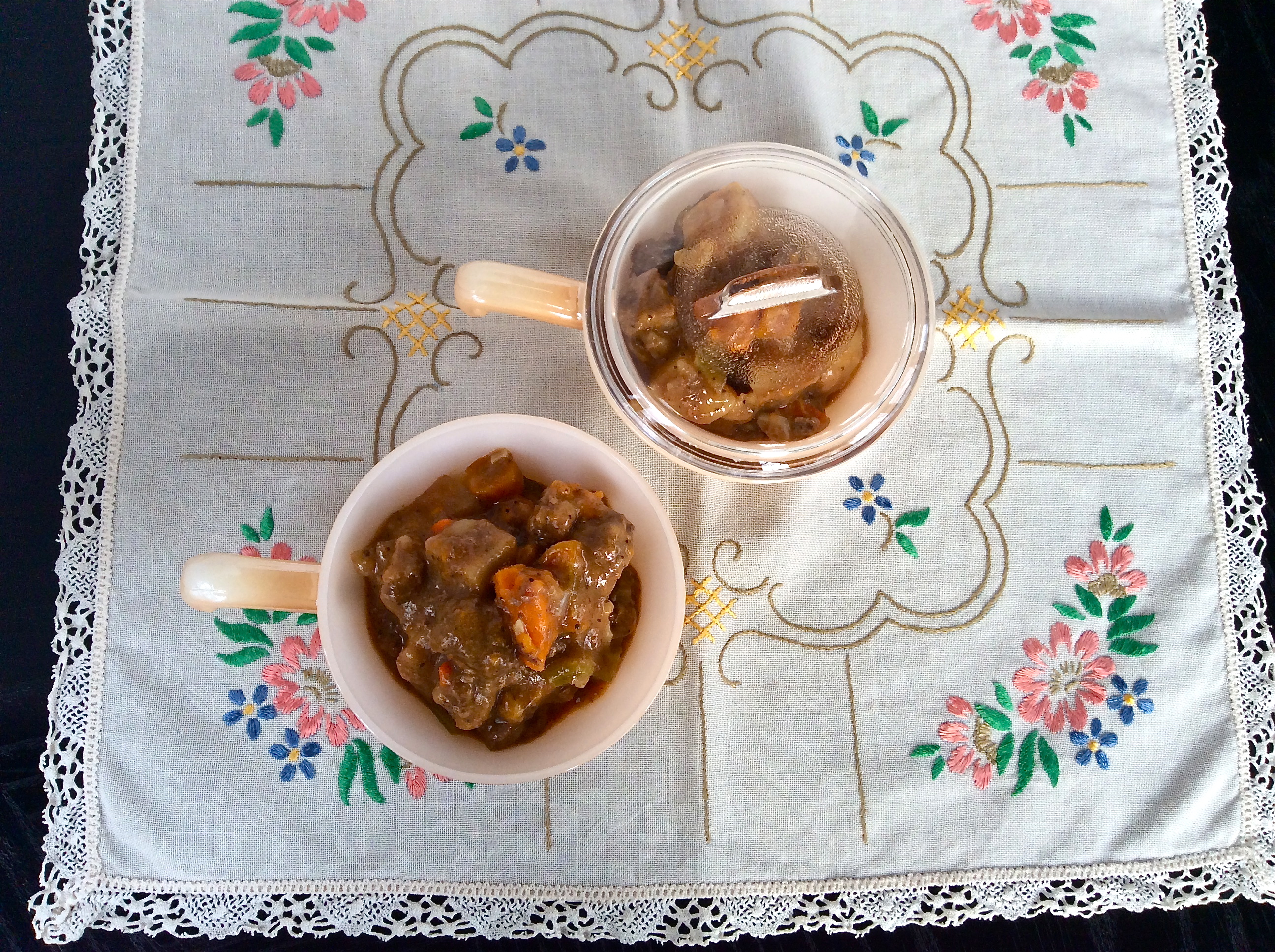 Don't you love these little carnival glass casseroles? They belonged to my grandmother, who stored all her leftovers in darling glass containers. She refused to use Tupperware, and never owned a microwave. Everything had to be heated on the stove or in the oven – a practice I am trying to duplicate as much as possible.
Every other year we buy free-range, grass-fed beef from a local organic farmer. The Mayo Clinic website states that, in comparison to regular store-bought beef, this type of meat has:
Less total fat and calories
More heart-healthy omega-3 fatty acids
More conjugated linoleic acid, a type of fat that's thought to reduce heart disease and cancer risks
More antioxidant vitamins, such as vitamin E and B
Honestly, even though organic grass-fed beef is expensive, because it is more nutritionally dense, you will eat less of it. And still feel satisfied. To top it off, this beef TASTES so much better. Once you've had real beef, from cattle grazed on a hillside and living in a family's barn rather than a feedlot, you'll never go back.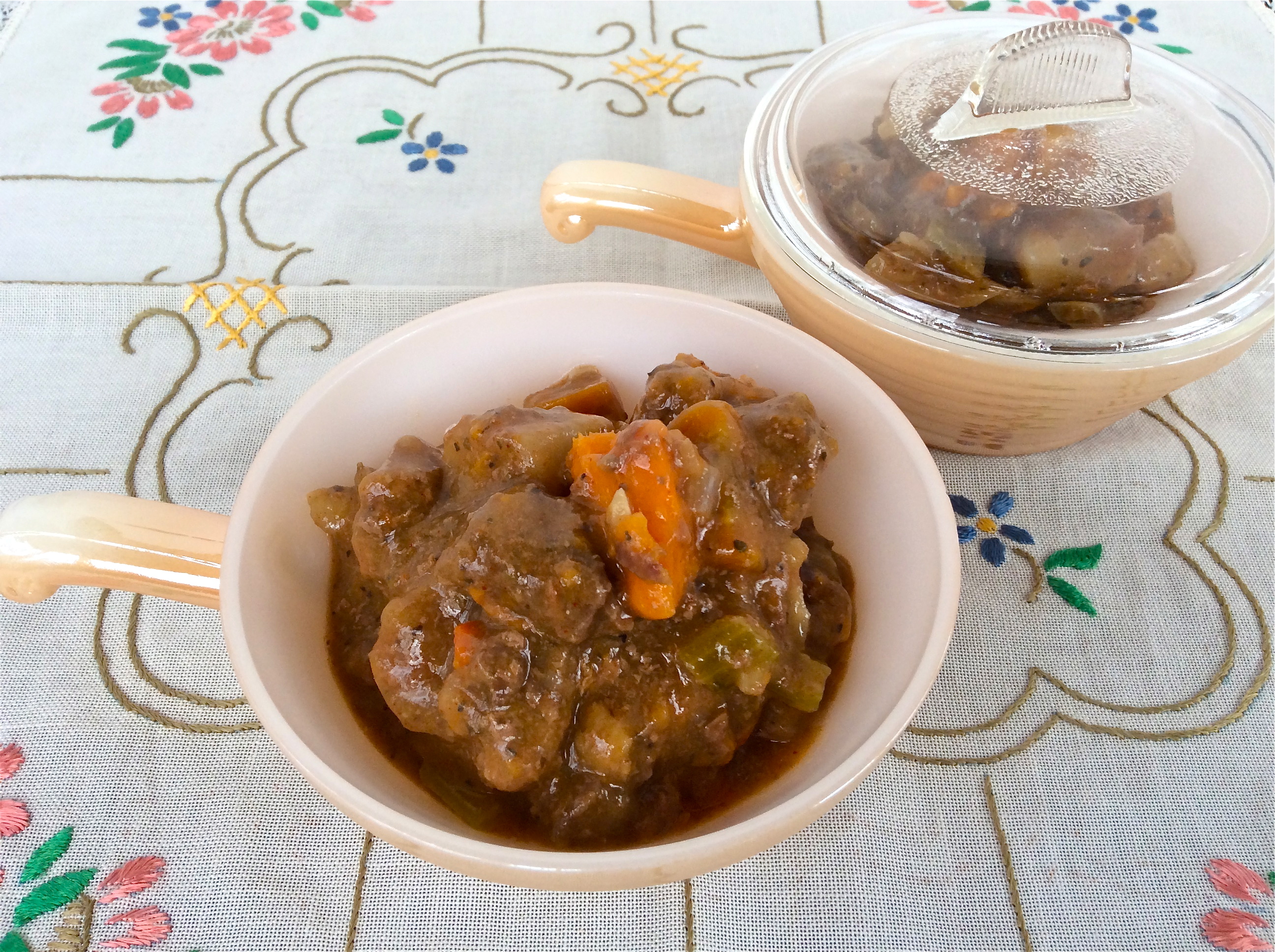 Anyway, this has been my go-to beef recipe for over 25 years. I hope you like it as well as we do! To make this gluten free, I use my gluten free flour blend, and add a little more than the 1/2 cup called for in the recipe. (Gluten free flour doesn't thicken liquids as well as regular wheat flour. Just mound the measuring cup a little, and it will be perfect.)
Autumn Beef Stew for Slow Cooker
Ingredients
3-4 pounds round steak, cut into bite-sized pieces
1/2 cup flour (I use a gluten free flour blend)
2 tsp salt
1 tsp basil
1 tsp oregano
1 tsp paprika
1/2 tsp black pepper
1/2 tsp rosemary
1/2 tsp celery salt
4 cups beef broth
1/2 cup red wine
2 Tbsp worcestershire sauce
4 cloves garlic, sliced
2 bay leaves
3 stalks celery, cut into chunks
2 onions, diced
2 parsnips, peeled and sliced
4 carrots, sliced
4 potatoes, cut into chunks
1 sweet potato, peeled and cut into chunks
Instructions
Combine the flour, salt, pepper, paprika, basil, oregano, rosemary, celery salt, and black pepper in a large crock pot. Add the beef chunks and stir until each piece is coated with the flour mixture.
Add the vegetables and garlic, and pour the broth, wine, and worcestershire sauce over all of it. Stir to combine. Lay the bay leaves on top. Cover and cook on high for 4-5 hours, or low for 10-12 hours.
Stir well before serving.
http://www.culinaryconcerto.com/autumn-beef-stew-slow-cooker/
Please follow and like us: