Have you ever put something off because you feared failure? Maybe you delayed a difficult conversation because you might say the wrong thing. Or perhaps you avoid wedding dances for fear of looking like a klutz. Or, like me, you decide to put off that first experience of skydiving because "failure" would be quite tragic. 🙂 Well, I have wanted to make bacon jam for years, but have been afraid the end result would be disappointing. But the day of boldness finally arrived.
A couple years ago we ate at a burger joint that boasted bacon jam burgers on pretzel buns. I skipped the bun (gluten issues) and attacked the burger with fork and knife, like any civilized person would. The bacon jam had melted into the hot burger and made it taste better than candy. (You have to understand my intense candy addiction in order to appreciate that comment.)
That burger prompted a search for the best bacon jam on the planet. I've tried several other restaurants, purchased jars of bacon jam at boutiques, and searched the web for recipes. None of these gave me what I was looking for. They were too sweet, too bitter, and one didn't seem to have any bacon in it – just the fat. All of them were disappointing failures.
Finally, this last week, I decided it was TIME. Time for REAL bacon jam. Armed with years of tasting experience and a half dozen recipes laying side-by-side on the counter, I took matters into my own hands.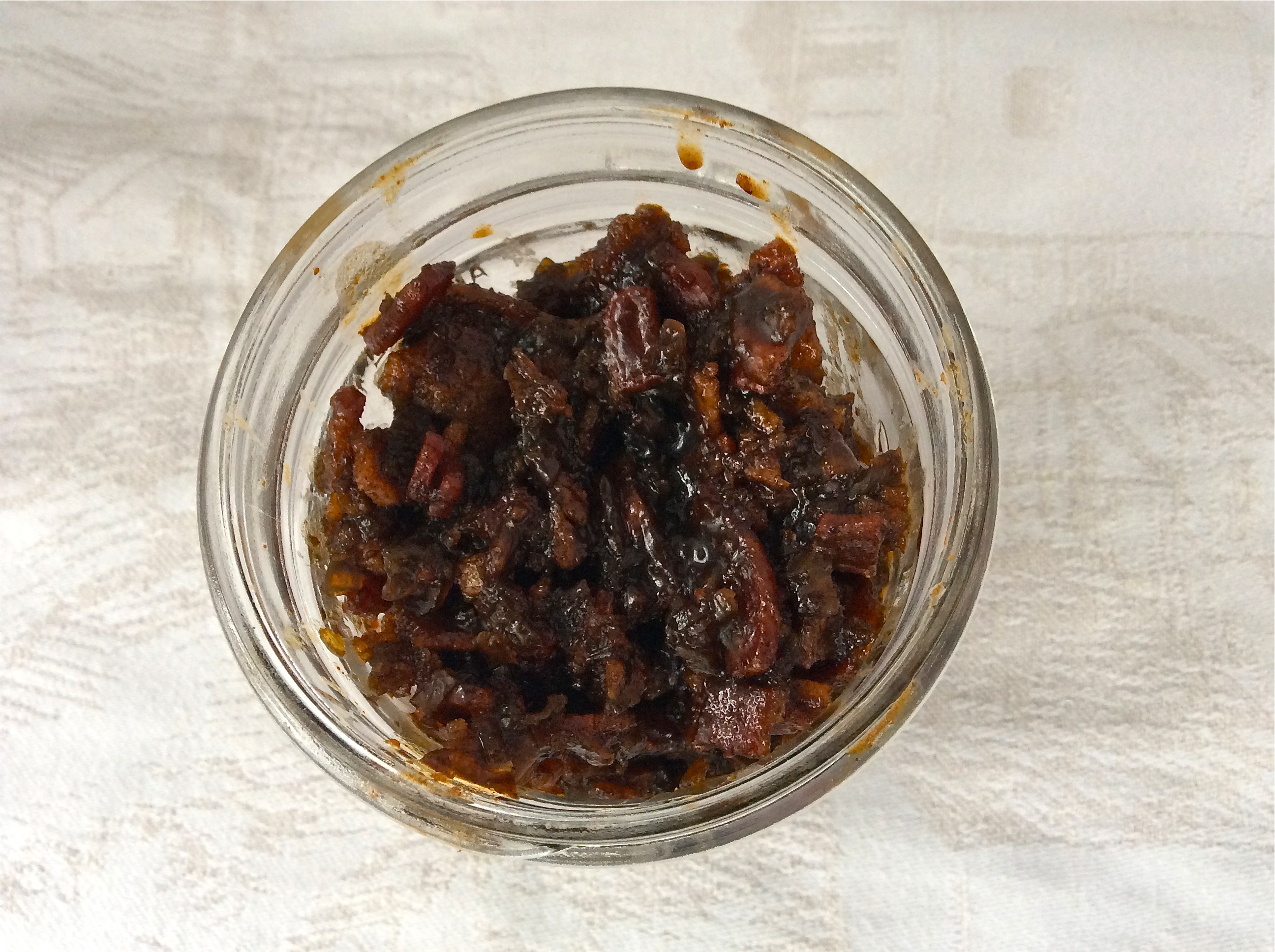 This, in my humble opinion, is the winning bacon jam recipe!
But first, a quick tip:
To get the best results, bake the bacon on parchment foil-lined baking sheets. Don't let the strips touch each other, or they won't crisp as well. I started off with two pounds of bacon, but because I don't always practice self-control, a few strips disappeared into my mouth before the jamming process began.
Even though eating bacon jam right out of the jar is my preferred method, some excellent ways to serve it include:
burger topping
stirred into mashed potatoes
steamed kale salad topping
toss with roasted beets
on scrambled eggs
spread on sourdough toast
and my current favourite:
topping a baked sweet potato (sprinkled with a little large-flake smoke salt . . . . YUM!)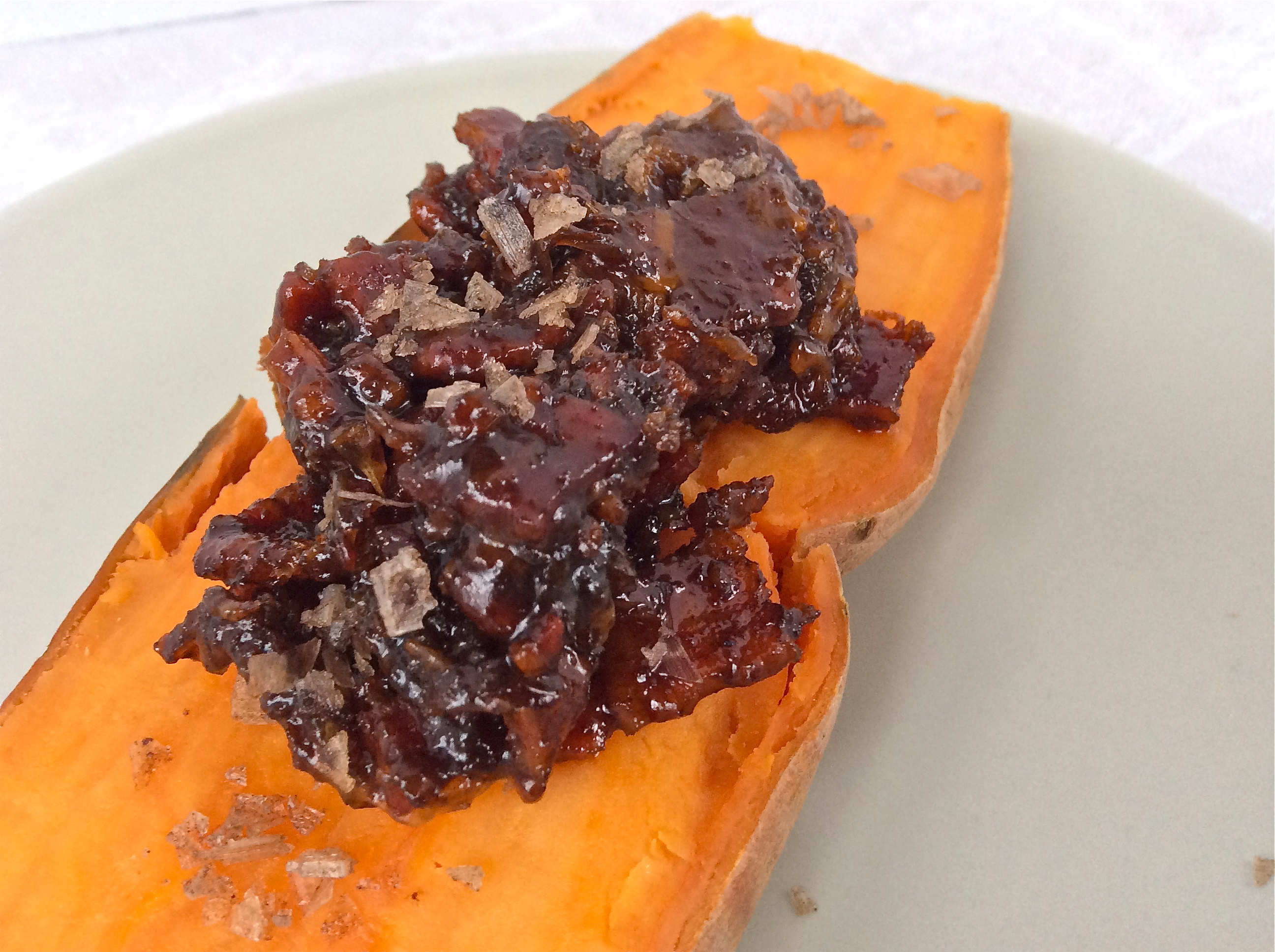 Yes, I have tried all of those. You will probably come up with other ideas and suggestions, which you should pass on to me. You can find me with a spoon in my mouth, secretly devouring more bacon jam.
Ingredients
1 1/2 pounds thick-cut bacon
1 medium onion, finely chopped
4 cloves garlic, minced
1 tsp chili powder
1/2 tsp pepper flakes, crushed
1/2 tsp paprika
3/4 cup bourbon
1/2 cup real maple syrup
1/2 cup brown sugar
1/4 cup balsamic vinegar
Instructions
Preheat oven to 375 degrees, and line two large baking pans with aluminium foil. Divide bacon slices between the pans, laying them flat and preferably not touching each other.
Bake until crisp.
Drain bacon on paper towels and chop.
Take 2-3 Tbsp bacon fat from the pan and add to large frying pan. Cook onion over medium-low heat until very tender, then add garlic.
Add the chili powder, crushed pepper flakes, and paprika and allow to toast about 30 seconds.
Carefully add the bourbon and deglaze the pan. Pour in maple syrup and boil for 2-3 minutes.
Add brown sugar, balsamic vinegar, and chopped bacon. Simmer about 10 minutes, or until thick and jammy. Store in glass jars in the refrigerator.
Serve over burgers, spread on sandwiches, top vegetables, or eat by the spoonful.
http://www.culinaryconcerto.com/bourbon-bacon-jam/
Please follow and like us: