With the onset of the fall schedule, I need to do more advance preparation than during summer break. Some times my brain doesn't like to think and plan! Spontaneity is too much fun — except at 6:30pm when everyone is hungry!
Bourbon is such a great liquor to cook with. It's versatile and not terribly expensive. I tend to use it more in the fall than any other season. Check out this bourbon vinaigrette and bourbon apple crisp for great autumn recipes, and a big batch of bourbon baked beans for all your fall parties.
Anyway, on to the chicken! Our family enjoys eating at Leeann Chin when we are out and about and needing a quick bite. I always get the bourbon chicken. Not only is it gluten free, but it tastes amazing.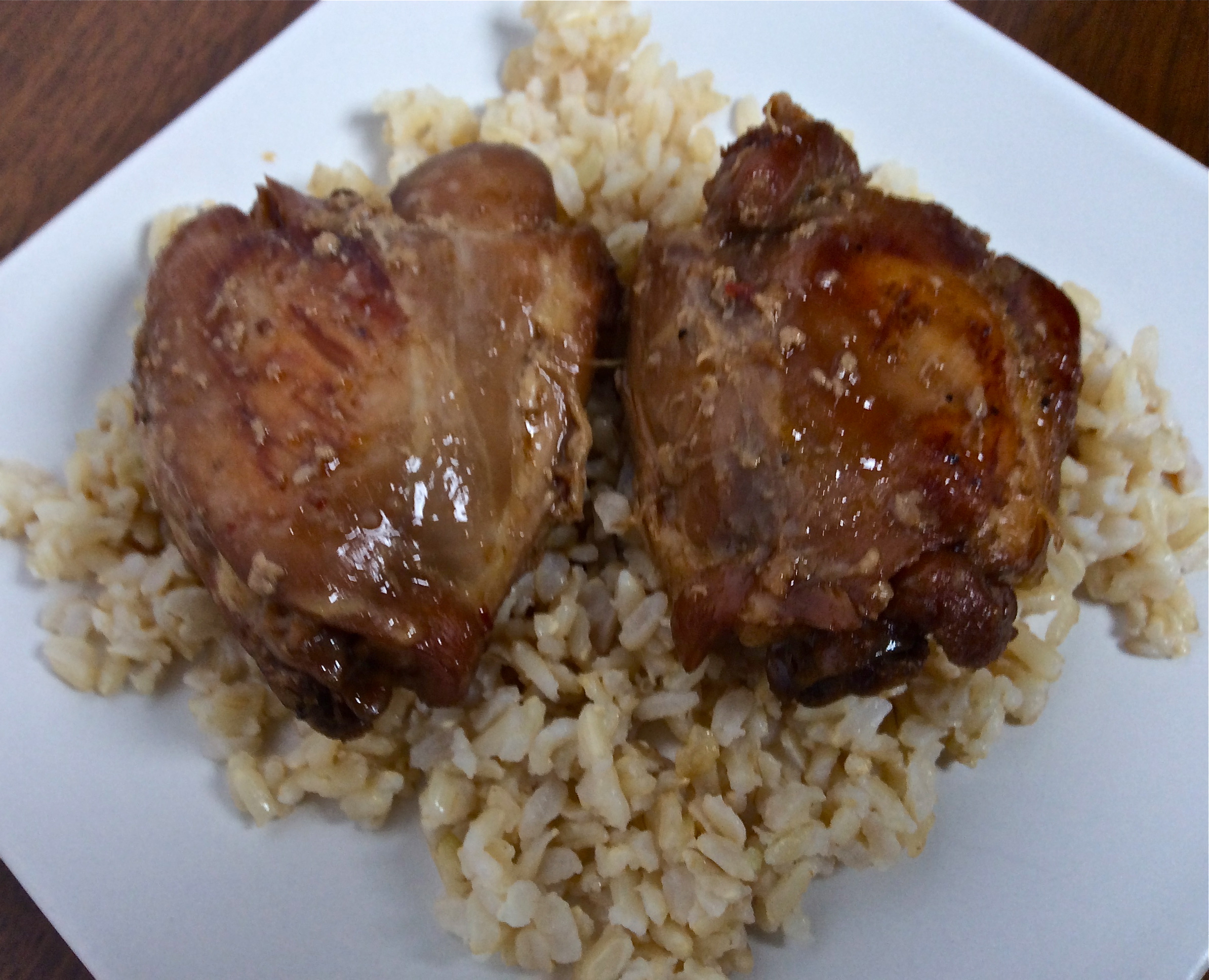 I'm not saying that this is a copy-cat recipe. Not even close. What I am saying is that this is equally delicious! Possibly even better than take-out. And it's easy to make – especially when you have a crazy schedule and can do some prep work in advance.
Our local health food store has had bone-in, skin-on chicken thighs on sale recently. I bought a bunch of packages and tossed them into the freezer. When chicken is beginning to thaw, but still pretty solid, the skin and attached fat pulls off easily. Just grab a kitchen shears to cut where it's attached, and you're good to go.
Mix up the marinade the night before, or morning of, pour over chicken, and let it sit in the refrigerator for several hours.
You definitely want to line your baking pan with parchment paper for easy clean up. Unless, that is, you have a spouse or child in need of the punishment of scrubbing baked-on sugars for a long, long time. Also, remember thigh meat has a pinkish tint, so you can't judge doneness by appearance. A meat thermometer is your best friend in the kitchen!
Strain and thicken the marinade so you have a wonderful sauce to pour over the chicken.
If you are really in a hurry, or don't want to heat up the house, employ your pressure cooker. Ten minutes "pretty side" down, release pressure, and flip the thighs for 2 additional minutes. That's how it goes with pressure cooked chicken thighs — they always remain moist, the flavor permeates every bite, and quick.
In the time it takes to cook the chicken, a pot of brown rice will be fully cooked. Add a salad, and dinner is served! Because cilantro pairs perfectly with the bourbon/ginger/garlic blend, it's a nice garnish.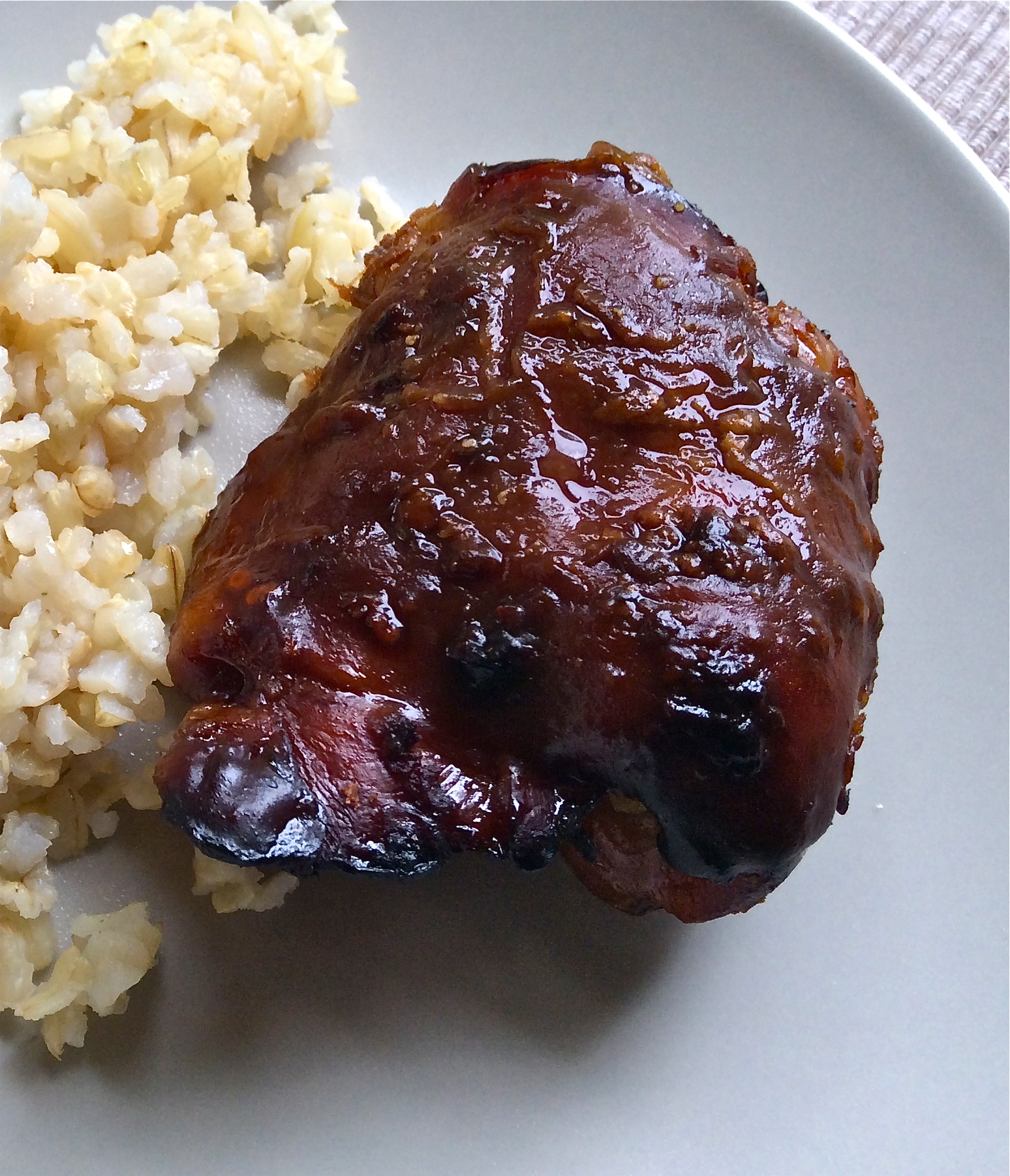 Ingredients
8 bone-in chicken thighs, skin removed
1/2 cup gluten free tamari (or soy) sauce
1/4 cup bourbon
3 Tbsp honey
4-6 garlic cloves, peeled and grated
1 Tbsp oil
2-inch piece of fresh ginger, peeled and grated
1/2 tsp pepper flakes
1/2 tsp black pepper
2 tsp corn starch, mixed with a little water
Instructions
Combine all the marinade ingredients (minus the cornstarch) and pour over chicken. Allow to marinate at least 2 hours - overnight is best.
Line a baking pan with parchment paper. Using kitchen tongs, remove chicken thighs from marinade and place on pan. Bake at 400 degrees for 45 minutes, or until interior temperature reaches 165 degrees. (A meat thermometer is your best friend in the kitchen!)
While the chicken is baking, strain the marinade through a mesh sieve into a small sauce pan. Bring to a gentle boil, then add the corn starch mixed with a small amount of water. Cook until sauce has thickened.
Serve chicken and sauce with brown rice and a salad.
http://www.culinaryconcerto.com/bourbon-chicken-thighs/
Please follow and like us: