I've never really thought of myself as a boring person. I just like order. There needs to be a place for everything, and everything should be in its place. Coats need to be hung up in a closet, with the door closed. Beds should be made every morning. Dirty dishes belong in the dishwasher, not the sink. But I'm not an obsessive housecleaner. My mother's motto was "HOME should be clean enough to be sanitary and dirty enough to be homey". No one died from a little dust. But if my house is going to be dusty, at least it's going to be tidy.
Chaos and bright colours raise my anxiety. And my blood pressure. When told to wear bright Christmas colours for a concert this week, I dug through my closet to find the brightest shade of brown that I own. Every Christmas tree has a brown trunk. And so I reason that brown is also a Christmas colour – not just red and green.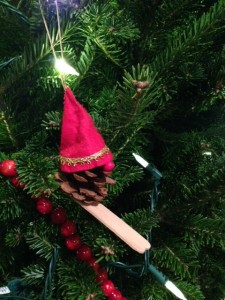 When decorating our tree last night, my infatuation with earthy colours was painfully evident. There is nothing glittery, sparkly, or garish on my tree. The most shocking thing is the red hat of a favourite pinecone skier ornament. Even the fake cranberry strands are muted with a glaze of black. But I think it's a very festive tree, and I look forward to many evenings basking in the twinkling lights of our beautiful canaan fir tree.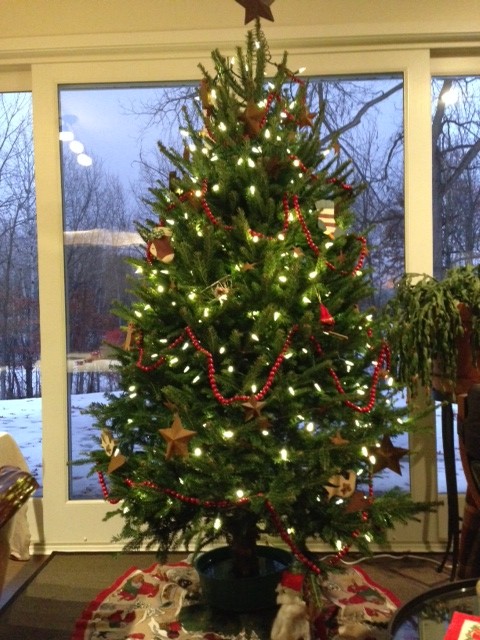 And for those who notice, the burlap tree skirt has pictures of a Swedish tomte, and a little Norwegian nisse (on loan from my mother) is standing guard. If you come for a visit between now and Christmas, I will most likely serve you gingersnaps with gorgonzola cheese, and a great cup of strong coffee. 🙂
Enjoy Advent!