One of the trips we took as kids encompassed several of the New England states. Two places made an impact on me: Maine with the fresh lobster and steamed clams, and Vermont with all that maple syrup.
I  have never tapped trees, and probably never will, but I am thankful to know several people who tap maples and boil down that sap into beautiful amber liquid.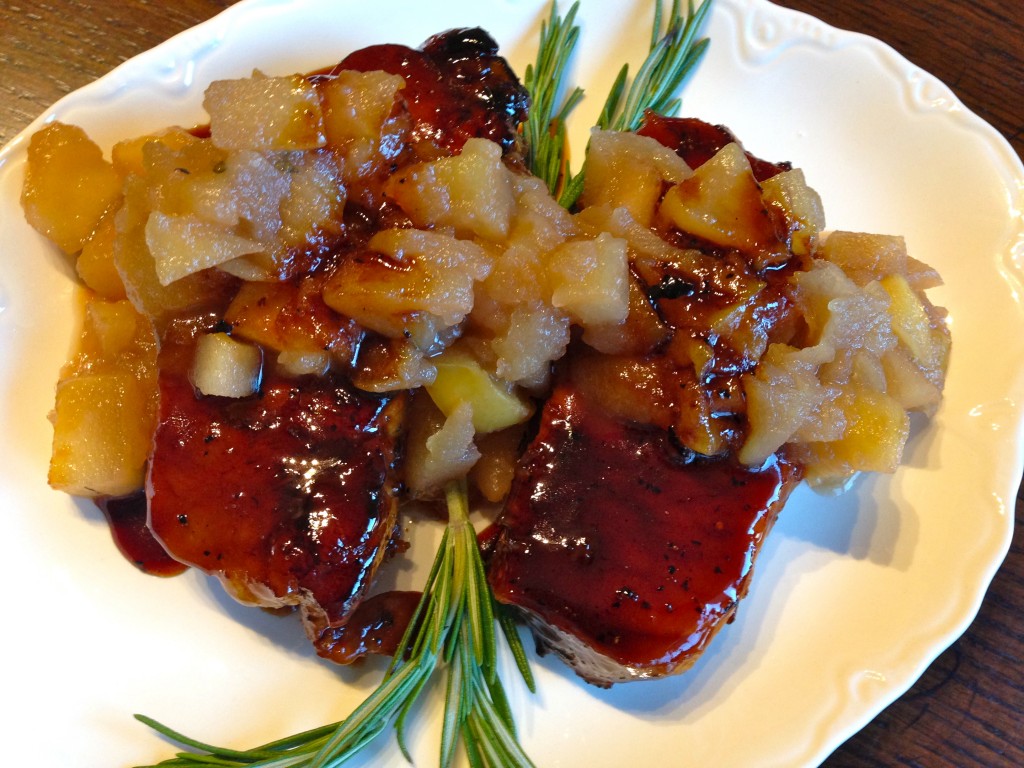 A recent addition to my interests has been "bitters". Historically traced back to ancient Egypt, and popping up in history ever since then, it is the common use of bitters during the 1800's that fascinates me. Bitters were said to cure everything from sea sickness to home sickness, headaches to bad humour, fainting to flatulence, mental illness to malaria, and a host of other ailments.
Angostura aromatic bitters were originally made in Venezuela as far back as the 1830's, but are now imported from Trinidad and Tobago. (I removed the oversized label from my bottle because it was annoying. Little did I know that is the trademark.)
At some point bitters were added to cocktails, and that's where my history begins. Last year a dear friend joined us for supper, and brought the ingredients to make an Old Fashioned. I willingly cook with bourbon, but usually think it tastes somewhat like lighter fluid. But, SURPRISE! The Old Fashioned was delicious!
So my brain started putting things together – maple syrup, bourbon, apples, pork chops, and bitters. Yum!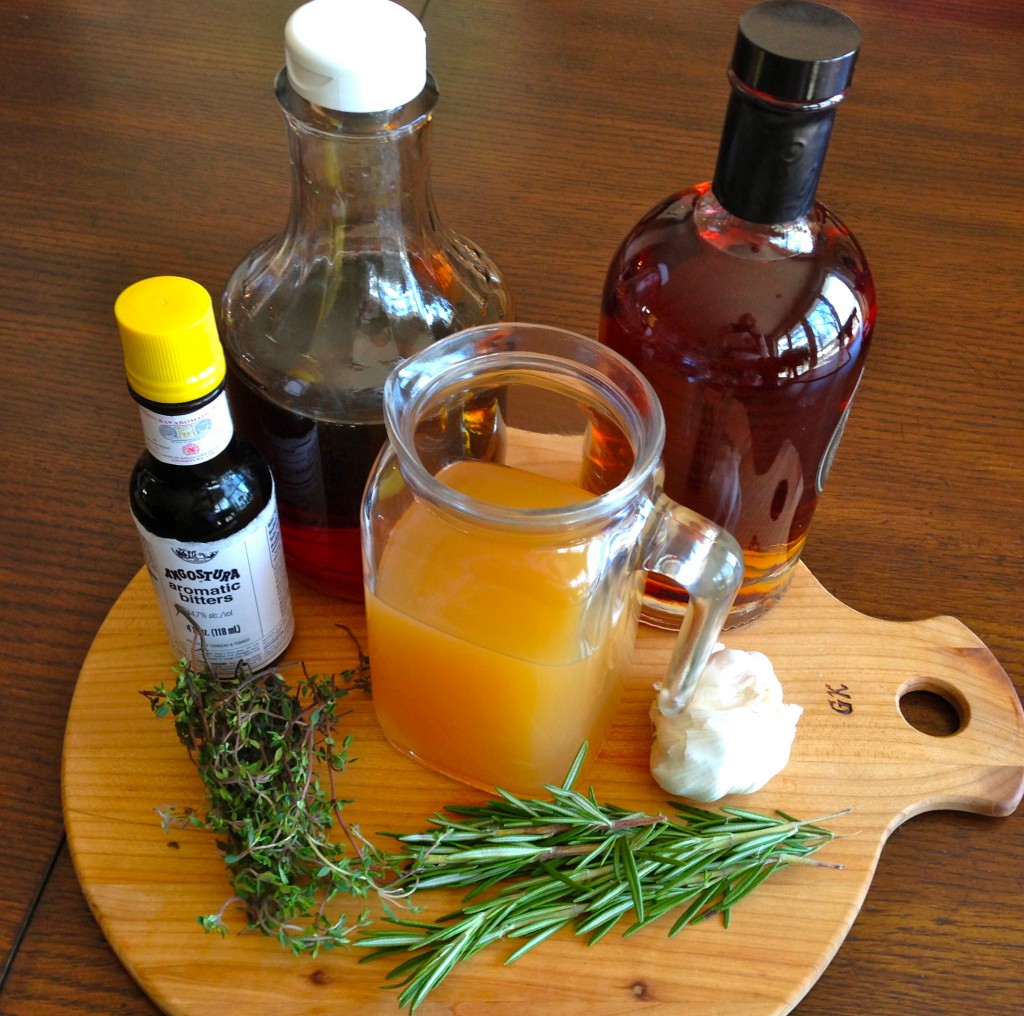 Marinade:
Mix up the marinade and let the pork chops soak in it for at least 2 hours. I would typically use one bone-in chop per person, but these bad boys came directly from the butcher, and were tender, wonderful, and substantial enough to share.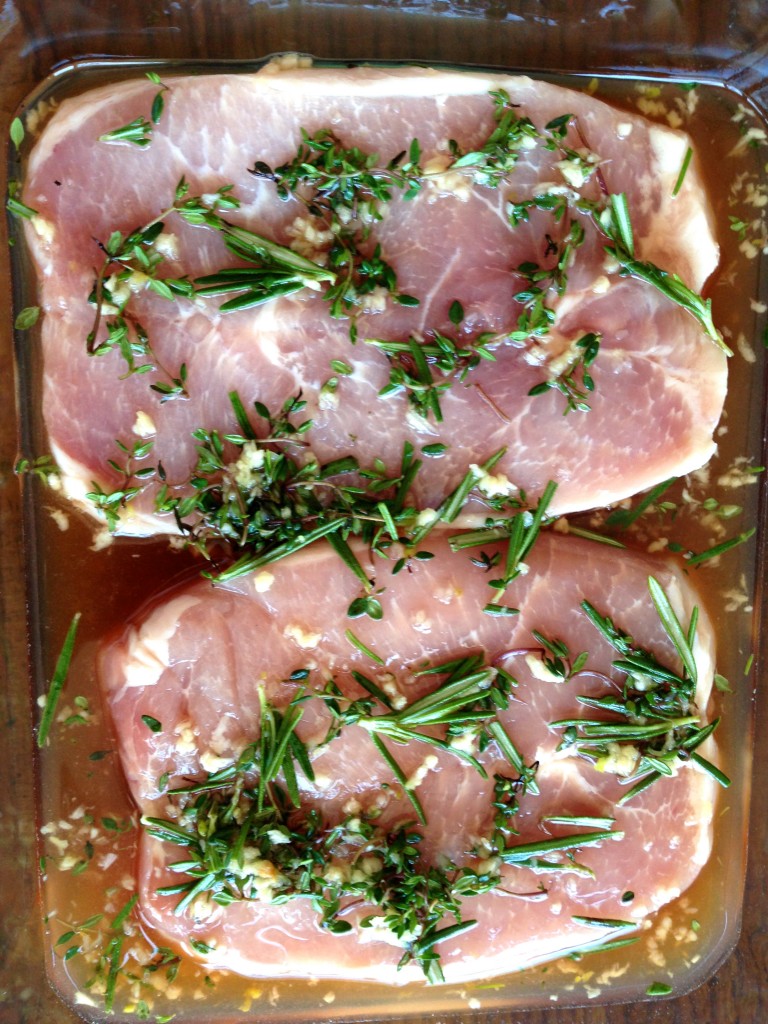 Glaze:
Mix up the glaze in a small sauce pan and reduce by half, which takes 10-15 minutes.
Chutney:
Meanwhile, make the chutney in another sauce pan. Combine the apples, cider, sugar, cinnamon, thyme, lemon juice and the bitters. Let that simmer together until the apples are soft. Then stir in the butter and bourbon and set aside.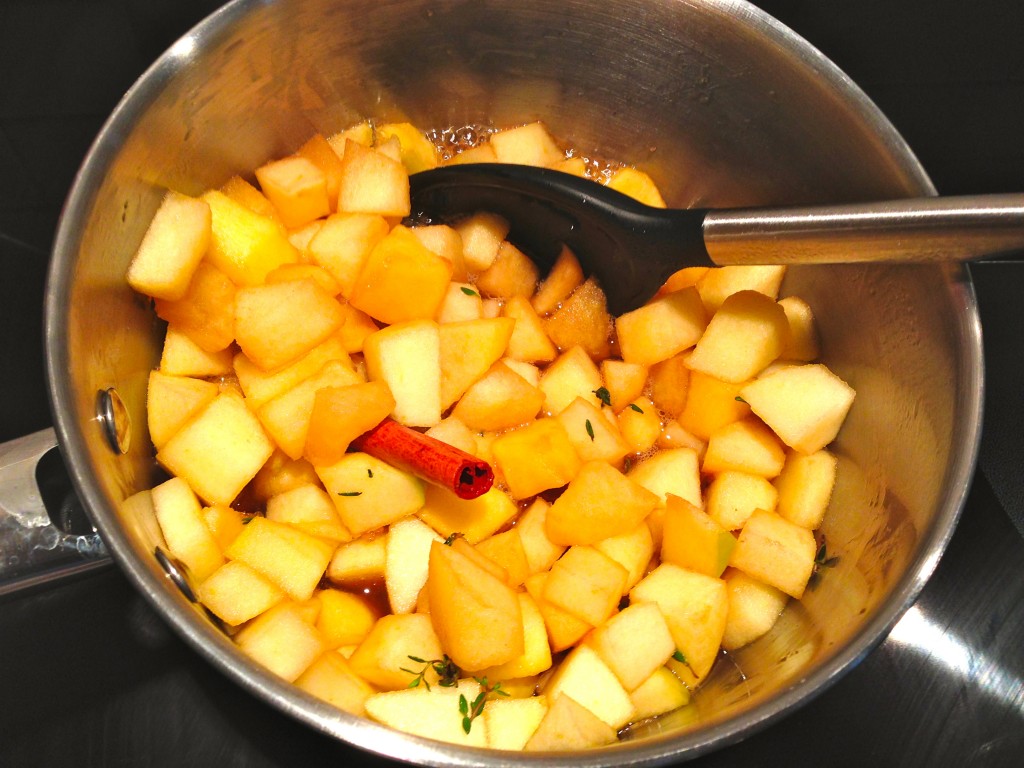 Pork:
Sear the pork chops on both sides before turning down the heat so they can cook to 135 degrees internally. This takes a while, but caramelizes the glaze and makes the pork super-tender and moist.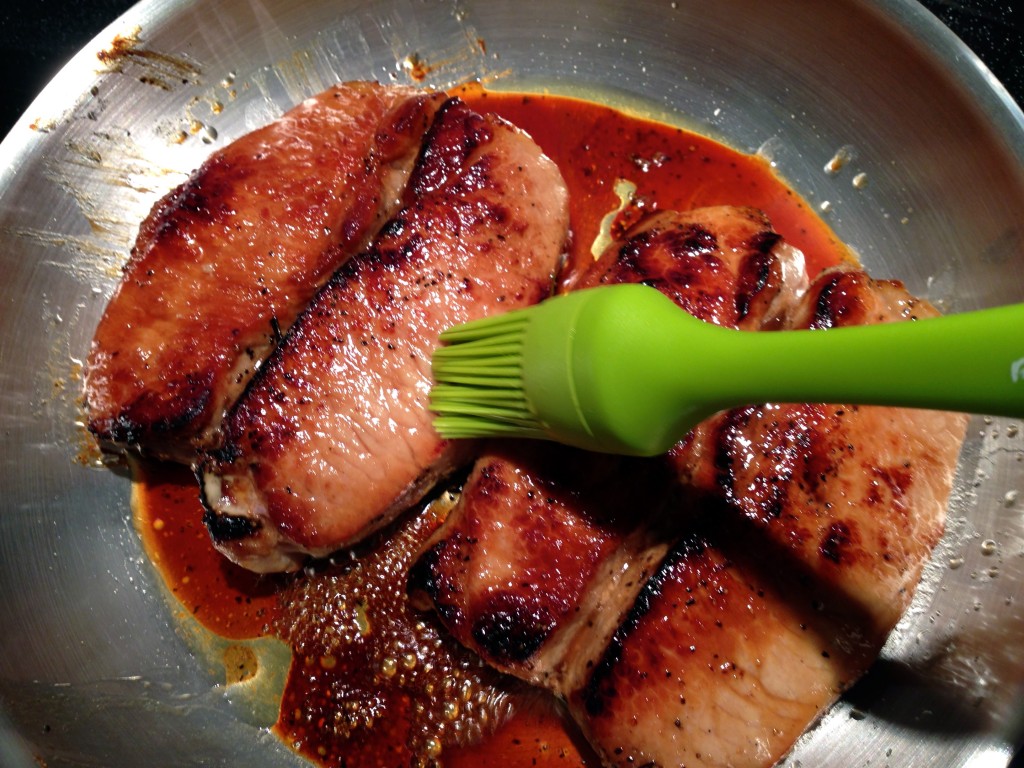 Remove chops from the pan, cover, and allow them to sit and settle. Any remaining glaze can be poured back into the pan and reduced while the pork is resting.
The Amazing Results:
Serve pork chops topped with the apple chutney, drizzling the carmelized glaze over the top. Could anything be better than this?
Oh, and serve with a Maple Viniagrette and Goat Cheese salad on the side, and an Old Fashioned, for a perfect meal.
Maple & Cider Glazed Pork Chops
Ingredients
2-6 pork chops (depending on size)
Marinade:
1/2 c apple cider
1/4 c maple syrup
1/4 c bourbon
2 cloves garlic, crushed
1 Tbsp each freshly chopped rosemary and thyme
1 Tbsp bitters
Glaze:
1 c apple cider
1/4 c maple syrup
2 tsp bitters
Chutney:
4 granny smith apples, peeled and diced
1/2 c apple cider
2 Tbsp brown sugar
1 cinnamon stick
1 Tbsp fresh thyme
1 Tbsp freshly squeezed lemon juice
1 tsp bitters
1 Tbsp butter
2 Tbsp bourbon
2 Tbsp olive oil
Instructions
Stir together the marinade ingredients. Marinate pork chops for at least 2 hours, or overnight.
In a small saucepan, combine the glaze ingredients and reduce by half - about 10-15 minutes. Set aside.
In a medium saucepan, combine apples, cider, brown sugar, cinnamon stick, thyme, lemon juice, and bitters. Allow to simmer until apples are tender - about 25 minutes. Remove from heat and stir in butter and bourbon. Set aside chutney.
Remove pork chops from marinade, brushing off solids, patting the chops somewhat dry, and discarding the marinade. Allow the chops to come to room temperature.
Season pork chops generously with salt and pepper.
Heat olive oil in a large fry pan over medium-high heat. Sear the chops quickly - maximum 2 minutes each side. USE YOUR EXHAUST VENT.
If you use an induction cooktop, drop the heat to medium-low. All other cooktops, remove fry pan from the hot burner and set over another burner set to medium-low. Begin glazing and flipping the pork chops every 5 minutes, or so.
Cook pork chops until they reach the internal temperature of 135 degrees. This may take 30 minutes over such low heat, but rely on the thermometer.
Remove pork from pan, cover, and allow to "rest" for about 10 minutes.
While the pork is resting, dump any remaining glaze into the fry pan and reduce to a nice, caramelized syrup.
Serve pork chops topped with chutney and drizzled with glaze.
http://www.culinaryconcerto.com/maple-cider-glazed-pork-chops/
Please follow and like us: