This is probably the most incredible apple crisp you will ever taste, in my humble opinion. It is sweet, tart, chewy, buttery, and boasts a surprise with the sauce that looks like caramel, but has a fresh appley-citrusy-bourbony zing.
I have a couple different philosophies when it comes to dessert:
Make it big, or go home. In other words, dessert is a treat so why be stingy with flavour and calories? No one wants to eat a chocolate chip cookie with only 2 chips in it. No one wants to eat cake that tastes like cardboard. Dessert is a treat, not an everyday occurrence, so MAKE IT AMAZING!
Also, if a dessert is comprised of more than 50% healthy ingredients – like apples and oatmeal – it's good for you, so help yourself to a second serving.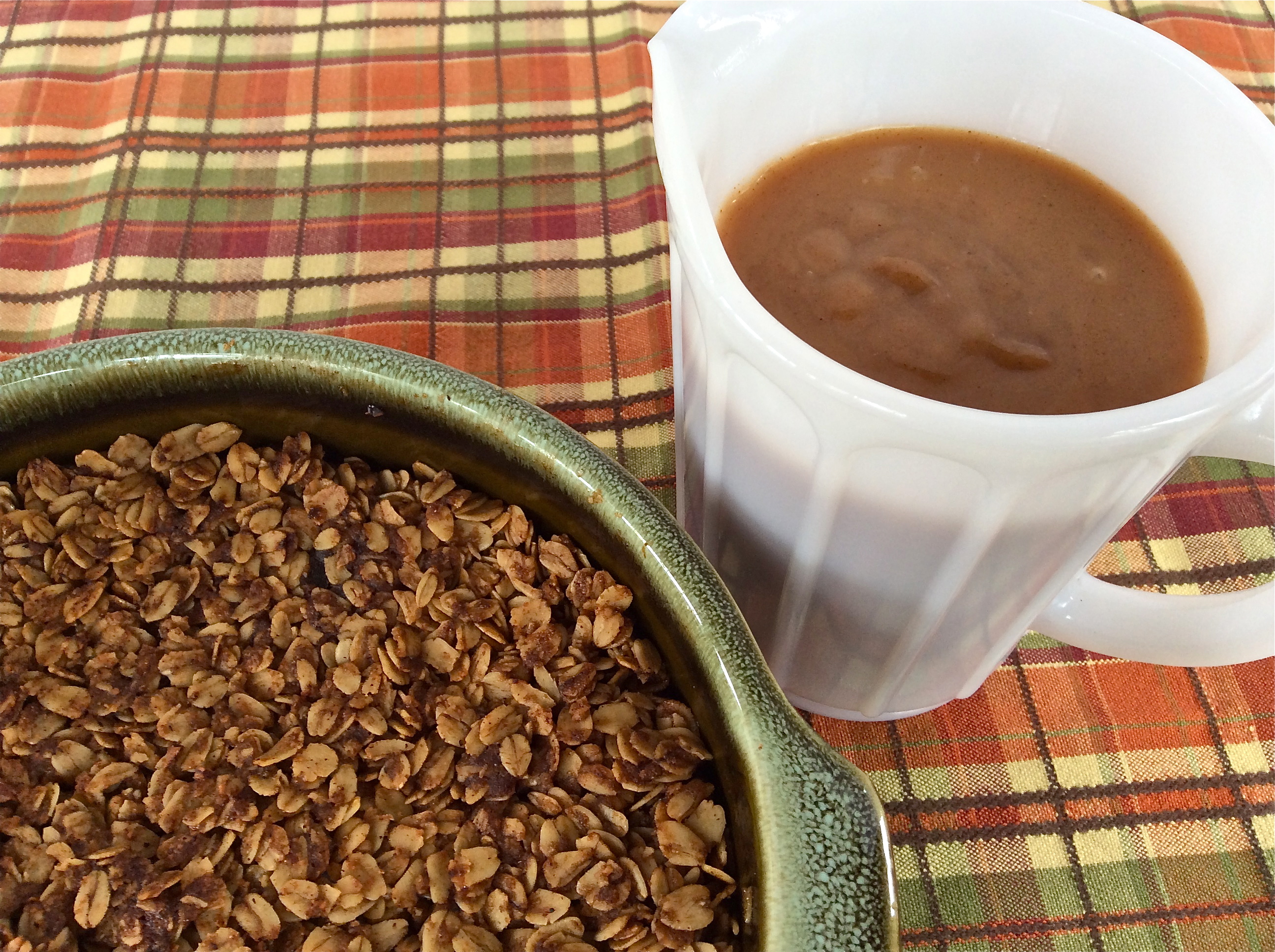 This recipe takes a little time – plan on 2 hours from start to finish – but if you sip some of the hot cider and read a book while the crisp is baking, time flies.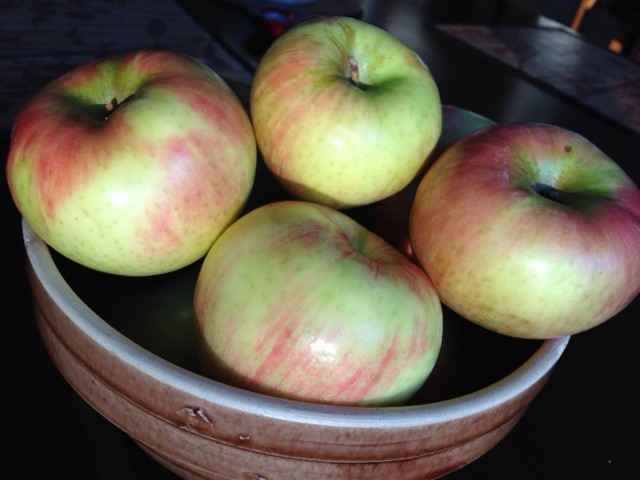 Instructions:
Reduction – Pour apple cider into heavy stockpot, along with cinnamon stick, cloves, and allspice. (I always use at least 8 cups cider, so we can get 2 mugs of spiced cider to sip on and enjoy.) Simmer until reduced to about 1 1/2 cups, which takes almost an hour. Your house will smell wonderful!!!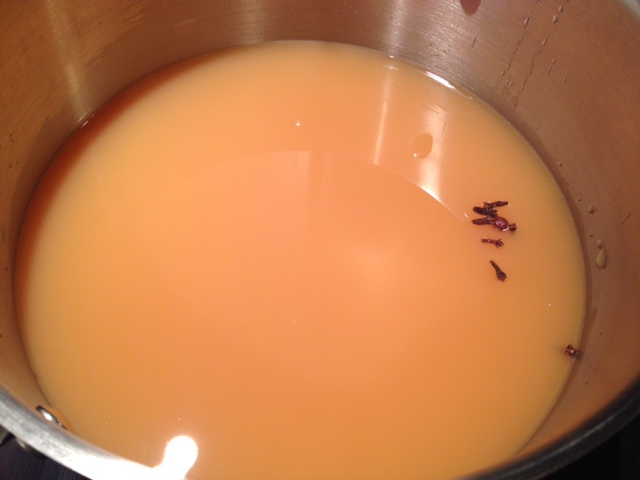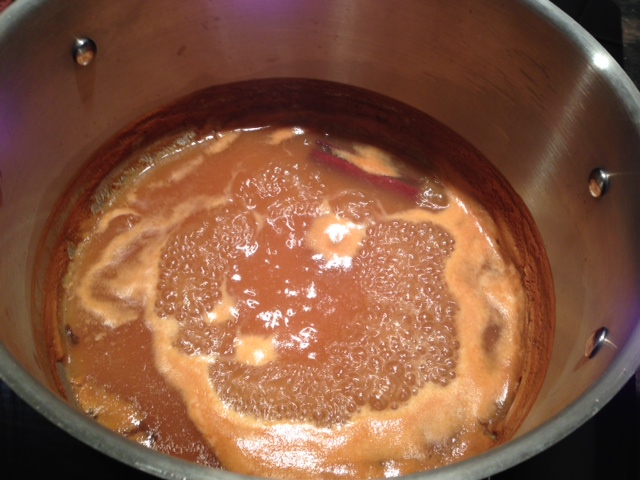 Filling – While reducing the cider, toss prepared apples with raw sugar, cinnamon, allspice, and lemon juice. Allow them to sit about an hour (a process called "macerating", which allows the juices to release from the apples, and spices to "marry").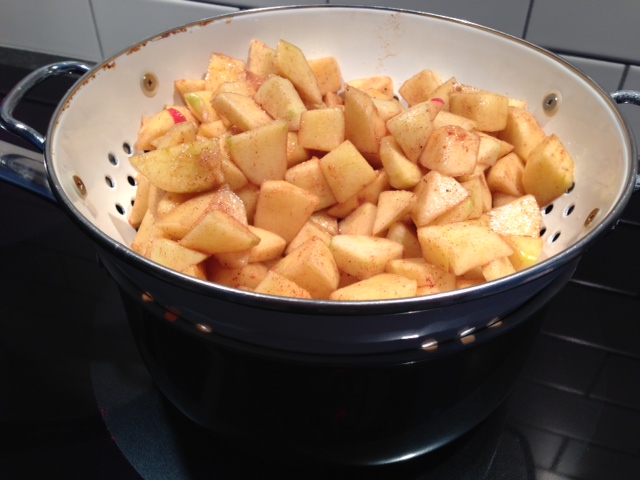 Topping – Prepare topping by mixing the oats, brown sugar, cinnamon and melted butter together.
Assembling – After about an hour, pour apples into a colander over large saucepan, and allow all those yummy liquids to drain off and add flavour to the reduction. Pour apples into a sprayed 8×8" pan, or similar sized casserole. Spread topping evenly over the apples, and grate some fresh nutmeg over the top. Bake in a 350 degree oven for 50-60 minutes.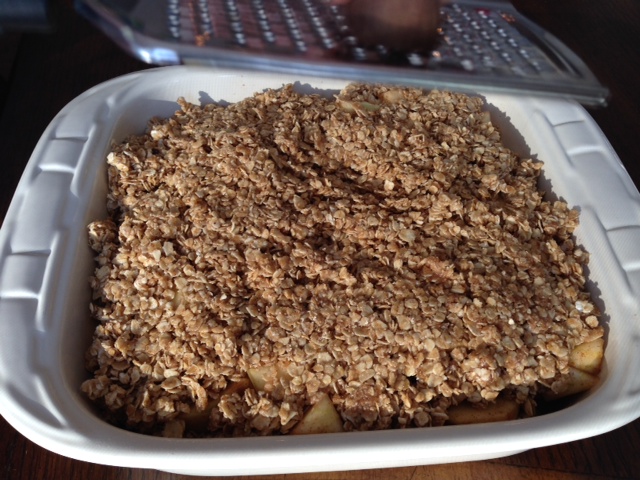 Bourbon Sauce – While apple crisp is baking, return all the juices and apple cider reduction to a rolling boil. Whisk in butter and cream. Allow to boil for 2 minutes, then remove from heat. Stir in bourbon – watch out! It will bubble like crazy. Allow to cool somewhat before serving over pieces of apple crisp. (This is not a thick sauce — if you really want it thick, whisk 1 Tbsp cornstarch into the cold cream before adding it to the reduction. As it boils, the sauce will thicken.)
Makes 10 servings!
Note: Jack Daniel's Tennessee Whiskey, Canadian Club Whiskey and Jim Beam are considered to be gluten free bourbons. I have never experienced a negative response to bourbon, but proceed with caution if you are extremely allergic to gluten.
Apple Crisp with Bourbon Cider Reduction
Ingredients
Filling:
6 cups honeycrisp apples (6 large or 8 small), peeled and cut into pineapple chunk sized pieces
1/4 cup apple cider reduction
1/2 lemon, juiced (2 Tbsp, or so)
1/2 cup raw cane sugar
1 tsp cinnamon
1/4 tsp allspice
Topping:
2 cups gluten free oats
1/2 cup brown sugar
1/2 tsp cinnamon
fresh nutmeg
1 stick butter (8 Tbsp), melted
Reduction:
6 cups apple cider
1 cinnamon stick
4-6 whole cloves
2 whole allspice
Bourbon Sauce:
1 – 1 1/2 cups apple cider reduction, plus liquid drained from apples
4 Tbsp butter
1/4 cup heavy cream
3 Tbsp bourbon
Instructions
Reduction - Pour apple cider into heavy stockpot, along with cinnamon stick, cloves, and allspice. Simmer until reduced to about 1 1/2 cups, which takes almost an hour.
Filling - While reducing the cider, toss prepared apples with raw sugar, cinnamon, allspice, and lemon juice. Allow them to sit for about an hour.
Topping - Prepare topping by mixing the oats, brown sugar, cinnamon and melted butter together.
Assembly:
After about an hour, pour apples into a colander over large saucepan, and allow all to drain. Pour apples into a sprayed 8×8" pan. Spread topping evenly over the apples, and grate some fresh nutmeg over the top. Bake in a 350 degree oven for 50-60 minutes.
Bourbon Sauce - While apple crisp is baking, return all the juices and apple cider reduction to a rolling boil. Whisk in butter and cream. Allow to boil for 2 minutes, then remove from heat. Stir in bourbon. Allow to cool somewhat before serving over pieces of apple crisp. (This is not a thick sauce — if you really want it thick, whisk in 1 Tbsp cornstarch to the cold cream before adding it to the reduction. As it boils, the sauce will thicken.)
http://www.culinaryconcerto.com/apple-crisp-bourbon-cider-reduction/
Please follow and like us: