Some times I long for simpler days. I even get twinges of nostalgia for the pioneer times – neighbours had to work together, houses were small and easy to maintain, divorce was unheard of, children didn't stare at an iPad all day long, and mealtime was a family affair.
Ever since our kids were young, our entire family has had a fascination with the Amish (along with reading books written about the colonial times through the peak of European immigration to the US). At the risk of being disowned by said children, here is one of my favourite photos of them. It wasn't Halloween, they had just visited an Amish community here in Minnesota and become quite enamoured with the precious people we met and their lifestyle.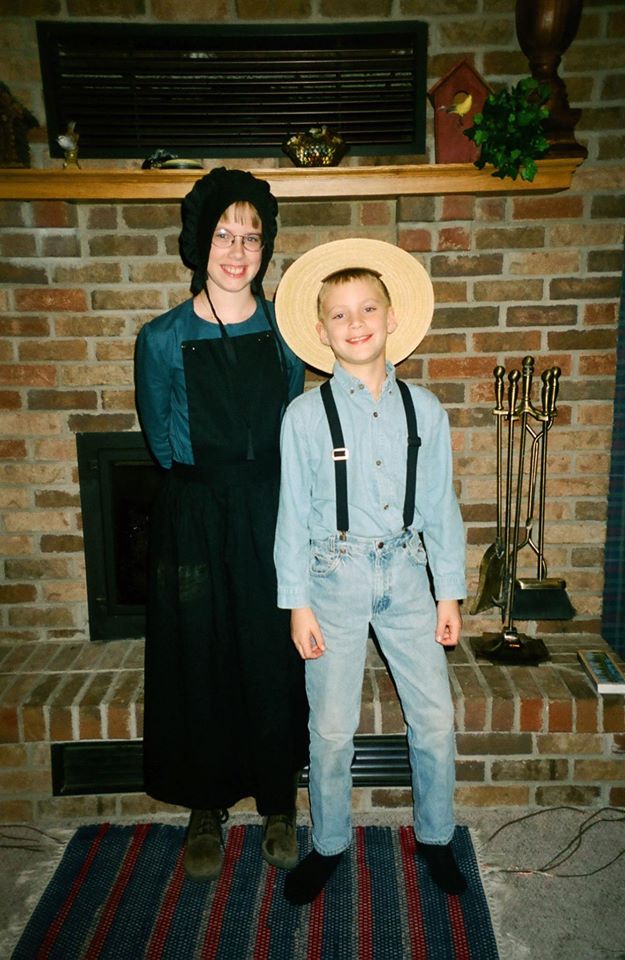 You know, even though evenings seem longer because it gets dark so early, I still feel like supper gets smashed in to the end of the day. Doing as much as possible in advance keeps me somewhat even-keel when hunger pangs hit.
When feeling rushed for supper, I try to avoid grabbing a jar of prepared sauce to toss with my meat and pasta. Even with a high quality, organic pasta sauce, the sodium levels are ridiculous! Reading nutrition labels is important, especially when popular varieties of pasta sauce list 590 – 1150mg sodium. Per 1/2cup serving! Holy buckets. That's 25-48% of the daily recommended intake of sodium in 4 measly ounces of sauce. And raise your hand if you only use 1/2 cup of sauce on your pasta. NO ONE DOES THIS! And recent statistics from the CDC show that one in three Americans have high blood pressure. Is it any wonder?!?
Okay. I'll step down from my little soapbox now. Thank you for your patience.
In this massively large batch of delicious sauce, the meat is seasoned while browning, and 1 teaspoon of salt is added to the sauce itself. To be generous, that's about 4000mg sodium spread over dozens of servings. And the best part is — with all the flavour in this sauce, you'll never miss the salt.
Using a homemade Italian seasoning blend allows me to control the ingredients even more. (Do I have control issues? Don't answer that…)
There are also veggies of basically every size and shape cooked into the sauce. Loads of fiber, loads of nutrition, loads of taste.
Any time I plan on making lasagna, I cook up a batch of pasta sauce. About 12 cups of sauce goes to the lasagna (makes two 9×13″ pans), and the rest gets frozen in family-sized bags for us to enjoy later. That is wise time management!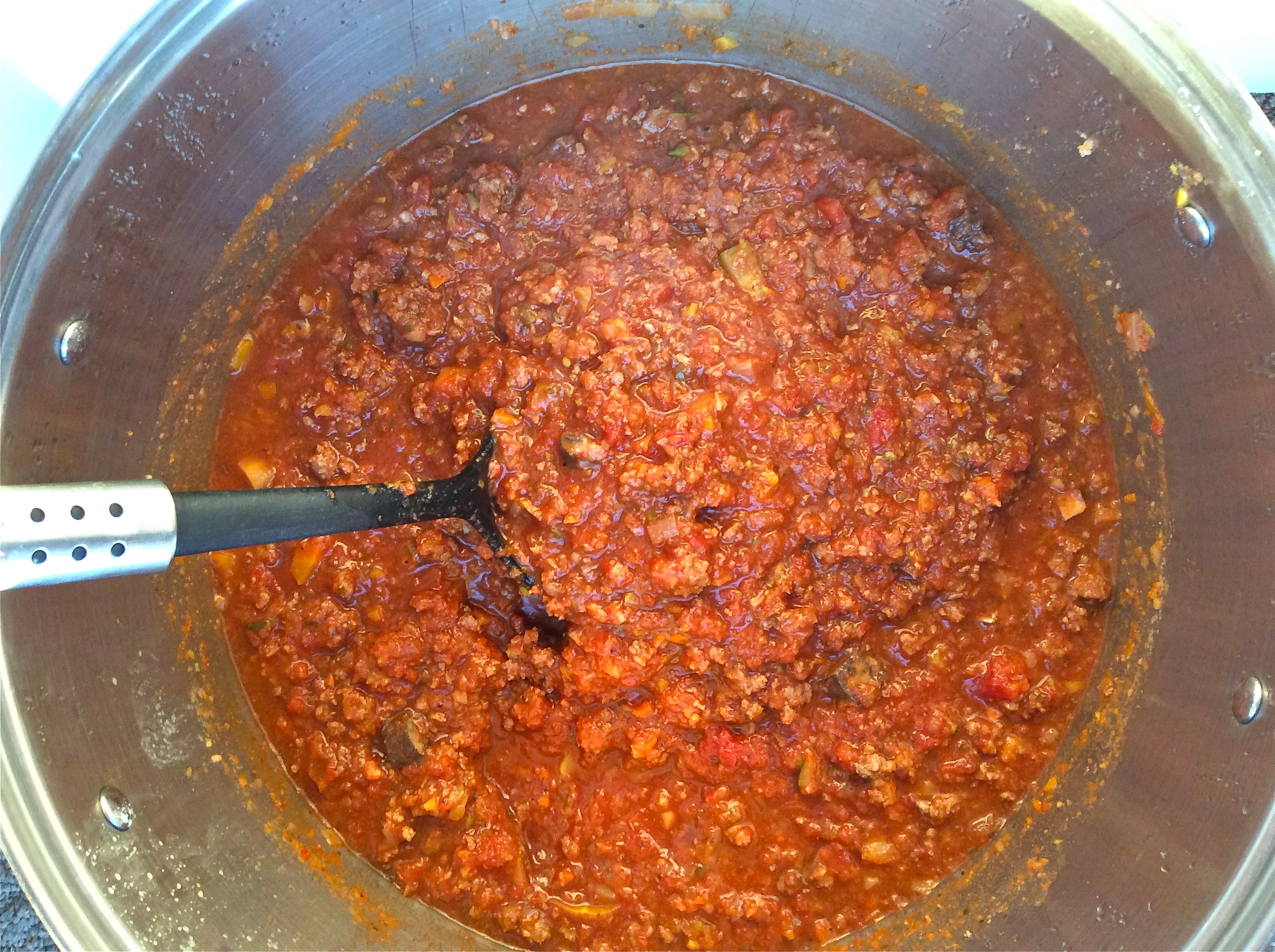 Ingredients
2 Tbs oil
4 large yellow onions, chopped
8-10 carrots, chopped
2-3 parsnips, chopped
10 cloves garlic, chopped
1 1/2 cups red wine
12 oz tomato paste
4 - 28 ounce cans diced tomatoes
5 Tbsp italian seasoning
2 tsp salt, divided
1 tsp chili pepper flakes
1 1/2 tsp black pepper, divided
Parmesan rinds (optional, but worth adding)
2 medium zucchini, chopped
2 - 8 ounce packages shiitake or portobello mushrooms, chopped
3 pounds lean ground beef, grass-fed is best
2 Tbsp butter
2 Tbsp balsamic vinegar
Instructions
Heat oil in a large stock pot over medium heat. Cook onions, carrots, and parsnips until tender, then add minced garlic for another 2 minutes. Deglaze pan with wine.
Add tomato paste, tomatoes, italian seasoning, pepper flakes, 1 tsp salt, and 1 tsp black pepper. Bring to a boil, then cover and simmer for 1/2 hour.
Add the zucchini and parmesan rinds, cover and simmer another 1/2 hour.
Using a stick blender, process sauce until vegetable chunks are in small pieces. Add chopped mushrooms and simmer another 10 minutes. Stir in the butter and balsamic vinegar.
While the sauce is cooking, brown beef, seasoned with 1 tsp salt and 1/2 tsp pepper, until no longer pink. Add to stockpot and heat through.
Once cooled, freeze in glass containers (leave space for expansion) or good quality freezer bags. Use to make lasagna, pasta, or anything else that requires red or bolognese sauce.
http://www.culinaryconcerto.com/best-ever-pasta-sauce/
Please follow and like us: