I love this time of year! All of the great family gatherings and parties — and acceptable increased sugar consumption! 🙂 This dish flirts with the very fine line between vegetable and dessert. Even non-sweet-potato-lovers will adore this casserole!
My sister brought sweet potato casserole to a family gathering a couple years ago, and I couldn't stop dreaming about it. So rich, sweet, and crunchy! It's based on a dish served at Ruth's Chris Steakhouse – a restaurant I've never visited – and edited to suit our tastes.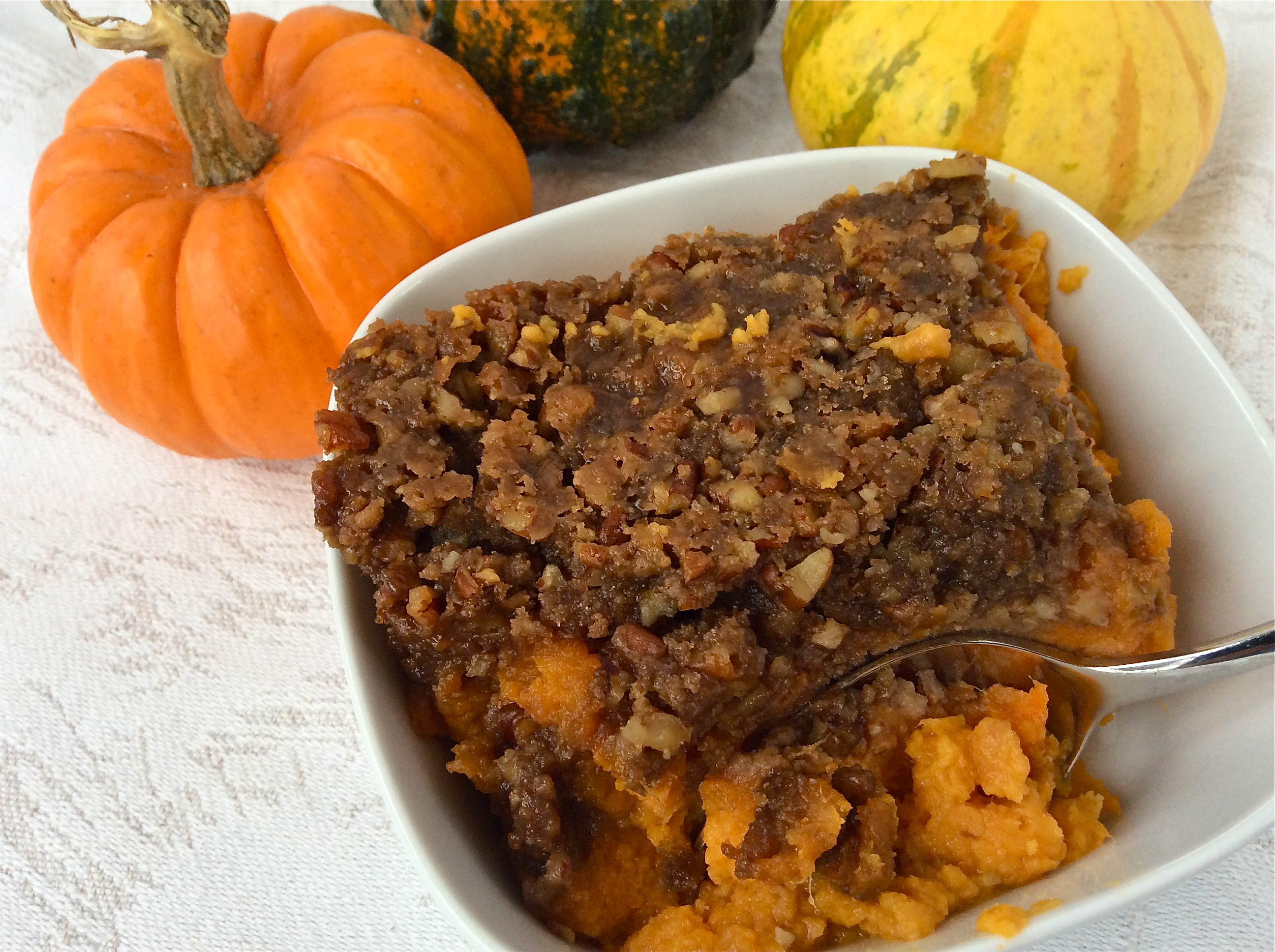 The main ingredient is, of course, sweet potato. Whatever you do, don't use canned, because there's too much liquid and the texture gets weird. In order to get 6 cups sweet potato, plan on 10 of the smaller, organic sweet potatoes. If you buy the super-sized ones from a regular grocery store, you can probably get by with six.
Scrub the sweet potatoes well, poke holes with a knife, and bake on a foil-lined baking sheet until they are done. Let them cool 10-15 minutes before scooping out the flesh so you don't burn your hand. (Since they are SWEET potatoes, liquid will ooze out of them while baking, making foil a very wise decision.)
During baking time, combine the eggs, milk, vanilla, salt, and 2 tablespoons butter. Here's the other reason for letting the sweet potatoes cool: if you add hot potato to an egg mixture, you'll end up with a disgusting version of scrambled eggs.
When stirring up the topping, use a gluten free flour blend to avoid gluten issues. I always have a large batch of this in the pantry to thicken gravies and stews, and to make desserts.
Don't skimp on butter for the topping. Butter makes it delicious, and allows it to crisp up.
Smoke-flavoured salt is the perfect way to top this dish. It gives a little crunch and incredible taste. Falksalt has the best large flake salt on the planet, in my humble opinion. You will never run out of ways to use it! Caramelized salmon is amazing when coated with a little brown sugar and smoke salt, just to give you an idea of how versatile it is.
Holiday Sweet Potato Casserole
Ingredients
Filling:
6 cups baked and mashed sweet potatoes (6-10, depending on size)
3 eggs, beaten
2 Tbsp butter, melted
1/2 cup milk
1 tsp vanilla
1/2 tsp salt
1/4 tsp black pepper
Topping:
1 1/2 cups brown sugar
1 1/2 cups finely chopped pecans
1/2 cup gluten free flour blend (or regular wheat flour)
12 Tbsp butter, melted (1 1/2 sticks)
1 tsp smoke-flavoured salt, optional
Instructions
Preheat oven to 350 degrees. Scrub sweet potatoes, poke holes in them with a knife, and bake on foil-lined baking sheet until tender. Allow to cool.
Meanwhile, combine beaten eggs, melted butter, milk, vanilla, salt and pepper. Once sweet potatoes are cool enough to handle, scoop out the flesh and add to the egg mixture.
Spread in the bottom of a greased 3-quart casserole or larger. (I use a 2.8 litre corningware casserole, but a 9x13" pan works, too.)
Combine topping ingredients and spread over the sweet potatoes, then sprinkle smoke salt on top - a few flakes go a long way.
Put casserole on a baking sheet and bake for 40-45 minutes. (Eggs make the sweet potatoes expand a bit, and you don't want to spend time cleaning the bottom of your oven today.)
http://www.culinaryconcerto.com/holiday-sweet-potato-casserole/
Please follow and like us: