Fresh garlic can be pretty pungent, but when it's roasted, it is sweet, smooth, and a great addition to almost any dish. Since it takes about an hour to roast, every time I bake bread, lasagna, or anything else that takes a long time in the oven, I throw in some garlic at the same time.
Frugality is a choice. 🙂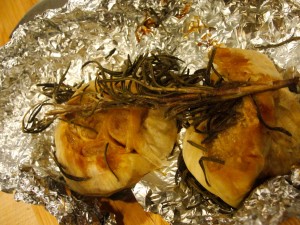 Ingredients
Garlic – several heads
Olive oil
Fresh rosemary, optional
Instructions
Using a very sharp knife, trim the tops of each garlic bulb to expose the flesh. Drizzle with olive oil. Place rosemary over the garlic, and wrap in aluminium foil. Roast at 350 degrees for about an hour.
Once the garlic is soft and fragrant, allow it to cool enough to handle. Squeeze the garlic out and store in a glass jar in the refrigerator.
With roasted garlic easily available, add to salsa, mashed potatoes, soups, and many other dishes.
http://www.culinaryconcerto.com/roasted-garlic/
Please follow and like us: