Oh Yeah! This is totally happening right now! Christmas treats hold a special place in our hearts, and during the season of Advent we lean towards traditions in a heavier, more beautiful way than during the other 11 months of the year.
I am a proud half-breed. My dad's parents immigrated from Sweden in the 1920s. My mother's family came from Norway in the late 1800s, and settled in northern Illinois. From these two cultures were created a fun blend of holiday traditions, food, and lifestyle.
One treat that I have enjoyed my entire life is Norwegian "krumkake". To be completely honest, I'm not a fan of most cookies – they are too dry for me. But the warmth of cardamom and just the right amount of delicate sweetness makes krumkake the victor in all cookie wars.
The actual name "krumkake" means something like "rolled or bent cake" in Norwegian. They are fragile, thin cookies rolled on a dowel. Some people destroy them eat them with whipped cream and jam, but I like them just as they are. Sweden boasts a similar cookie called "rullrån" or rolled wafers.
Over the decades, I have watched as my parents sat at a card table cooking and rolling hundreds of krumkake every December. Each Christmas party they attended was blessed with a massive platter of these cookies, and gifts packages were given to many people every year.
Mom bought a sweet electric krumkakejern (iron for making the cookies) many years ago. There are also "old fashioned" irons that sit on a stove, but electric is so much more convenient!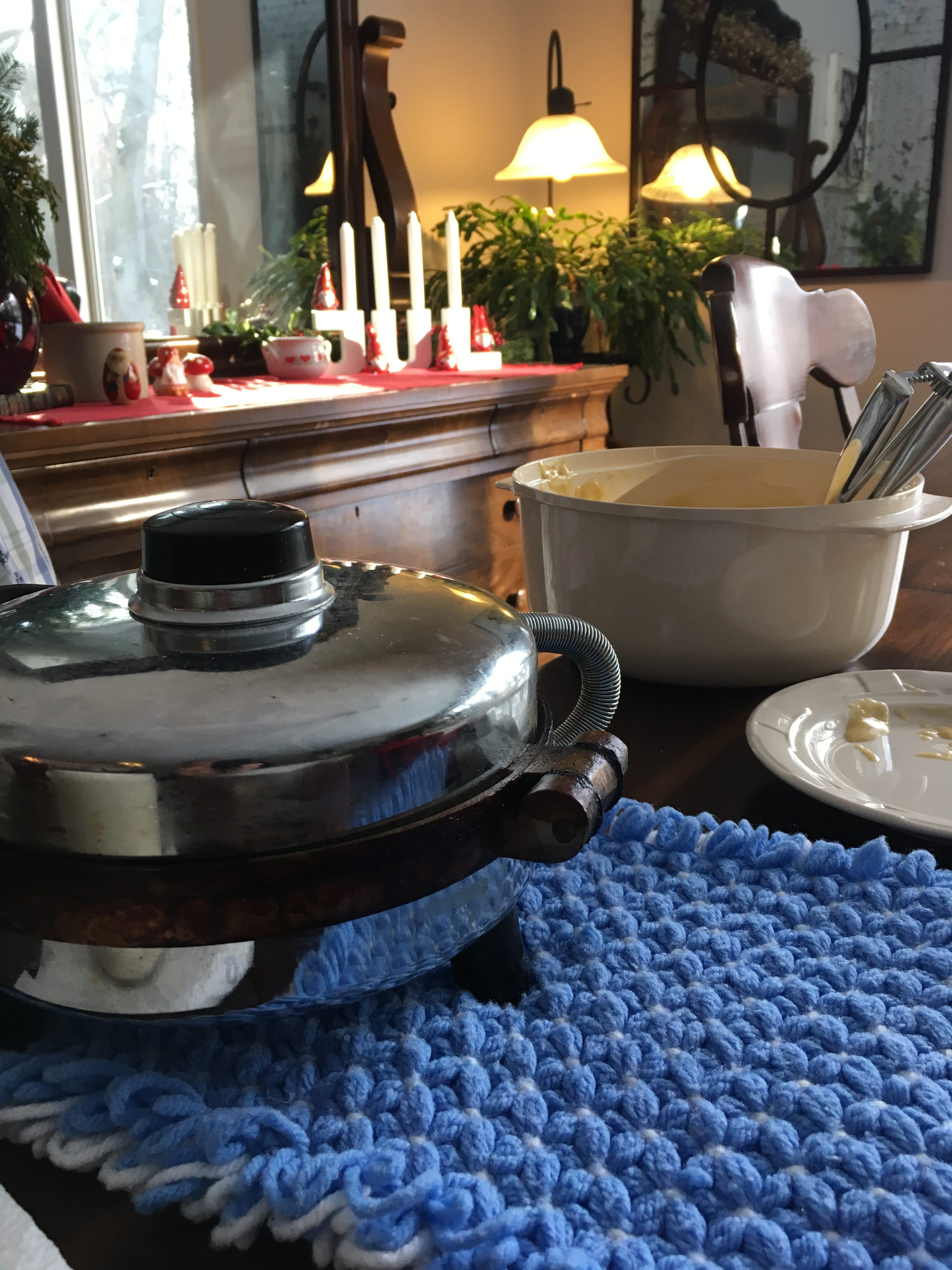 This is the first Christmas since Dad received the gift of complete healing. As we planned activities and holiday celebrations, I had the happy opportunity to be Mom's assistant in making krumkake.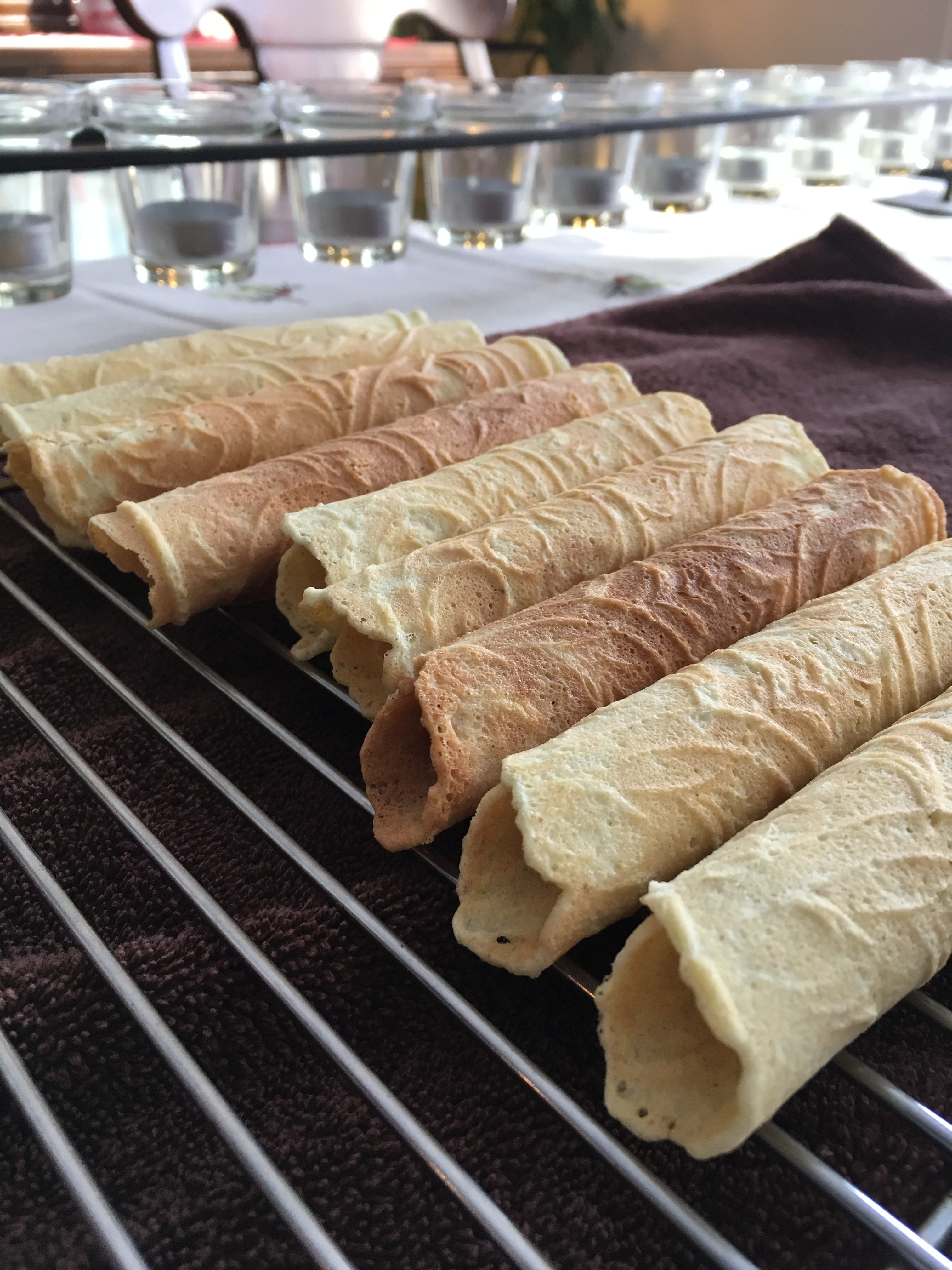 There are dozens of recipes for this delicious cookie, but Mom's is consistently the best. A few things are important to note:
Make the batter the day before so it can chill completely and liquids will be completely bound to the flour, which prevents crumbling
Don't try to make krumkake on a humid or rainy day (not usually an issue in Minnesota during December)
Have a friend over to help — conversation is fun, and it's much less stressful
This makes about 70 krumkake! If you don't want that many (WHAT IS WRONG WITH YOU???) just make a half recipe
This is my mother's recipe for krumkake:
Ingredients
8 eggs
2 cups granulated sugar
1 tsp freshly ground cardamom
1 cup melted (and cooled) butter
2 cups all purpose flour
1/2 cup cornstarch
Instructions
Beat eggs and sugar well - about 10 minutes - until thick, then add cardamom.
Fold in cooled, melted butter.
Sift together flour and cornstarch, then gently fold into egg mixture until well combined.
Cover batter and chill overnight.
Bake a tablespoon or so of batter on a hot krumkake iron until lightly browned, and immediately roll on wooden dowel. Allow to cool slightly before sliding the dowel out for the next krumkake.
Nibbling is encouraged.
http://www.culinaryconcerto.com/krumkake-rullran/
By the way, that sweet little blue coffee set was purchased by my parents in Norway during the 1970s.
Please follow and like us: