In all honesty, EASY doesn't matter if it doesn't taste amazing! Period.
We had friends over for an impromptu dinner. Because of allergies and time constraints, finding an entrée that would suit everyone was a challenge.
After collating the lists of allergens to see what had to be avoided, I decided to write down ingredients on hand that were NOT on that list. And so, this delicious recipe was born.
Chicken thighs happened to be on sale at our local health food store, so I grabbed a couple packages. These were bone-in, skin-on, which made for an extra delicious – and sticky – treat. The skin was caramelized like candy, and the meat was tender and juicy. Perfect score! (And sadly, no leftovers!)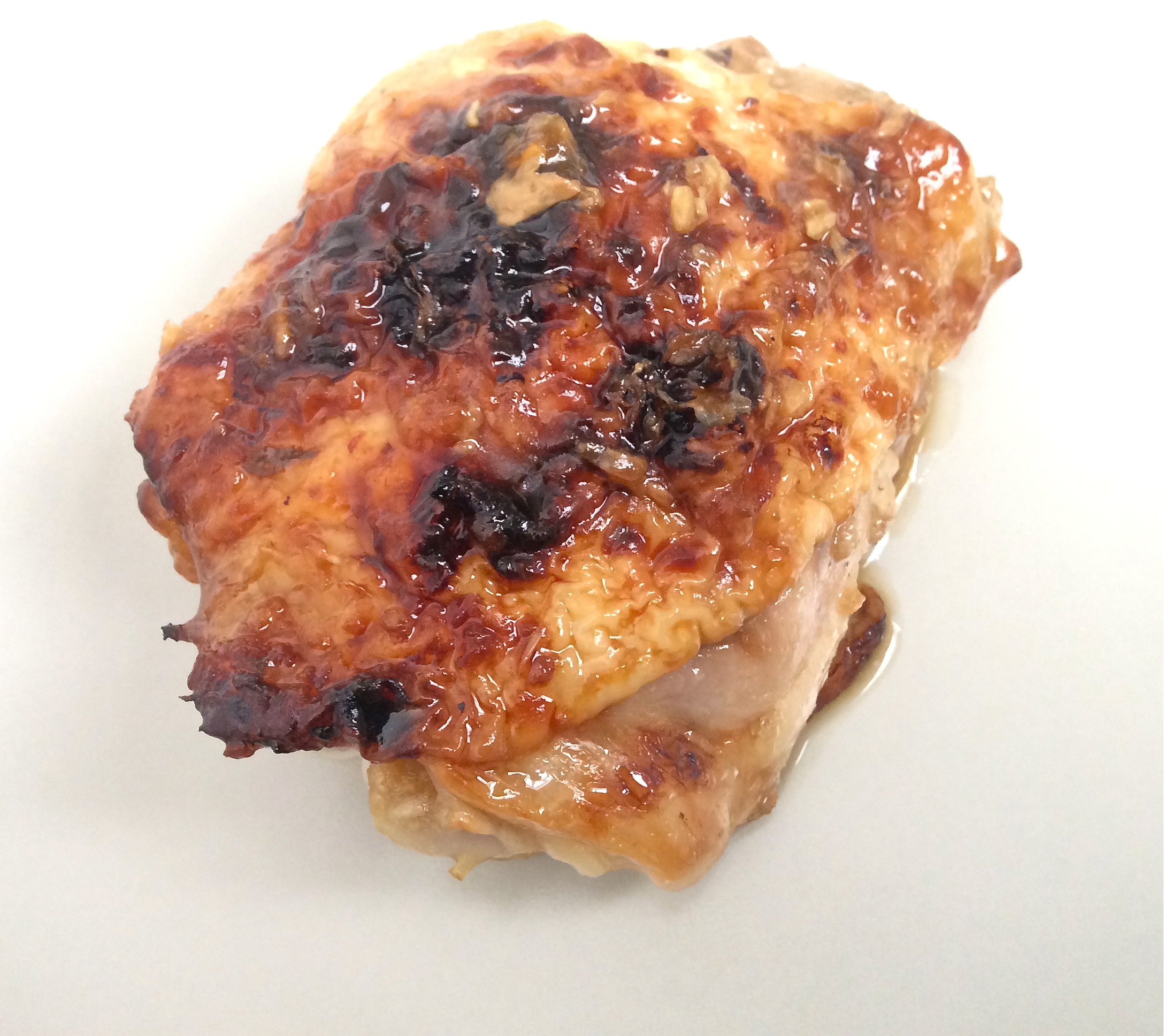 Seriously! Chicken just doesn't get any better than that!
Begin by roasting the chicken for 20 minutes. I usually put potatoes and/or veggies in the oven at the same time. I mean, why waste energy???
While it's roasting, mix up the ingredients for the sauce in a large bowl. Once you pull the chicken out of the oven, put each piece into the sauce bowl. Add a little fat to the sauce, and toss all the chicken around until each piece is well-coated.
Fire up the broiler, return the chicken to the pan skin side down and broil for 5 minutes. Flip the chicken and broil skin side UP for another 5 minutes, watching closely so it doesn't burn. It will bubble and brown, and create the caramel-ly deliciousness that will make this a new favourite.
That's it!
Here is that recipe:
Easy Honeyed Chicken Thighs
Ingredients
4-5 pounds chicken thighs (approximately 8 thighs), bone in, skin on
6 Tbsp honey
2 Tbsp brown sugar
2 Tbsp molasses
6 garlic cloves, grated
2 Tbsp grated onion
2 tsp salt
Instructions
Preheat oven to 400 degrees, and line a rimmed baking sheet with parchment paper.
Season both sides of the chicken thighs with salt and pepper, and bake for 20 minutes. (This is a great time to roast potatoes or other veggies - save time and energy) 🙂
In a large bowl, use a fine shredder to grate the garlic and onion. Add the honey, brown sugar, and molasses to create the sauce.
After chicken has roasted 20 minutes, remove from oven. Using kitchen tongs, place the thighs into the sauce bowl. Spoon out 2-3 Tbsp of the fat in the baking sheet and add to the sauce ingredients. Discard the remaining fat. Gently toss chicken in the sauce, coating all sides.
Turn on the oven broiler. Return chicken to the baking sheet, skin side down. Broil for 5 minutes.
Flip the thighs, pour sauce over the chicken, and broil skin side up for another 5 minutes.
Remember to always watch closely when broiling!
Remove from oven. Insert a meat thermometer where it won't touch bone, and make sure the chicken has reached 165 degrees.
http://www.culinaryconcerto.com/easy-honey-glazed-chicken-thighs/
Please follow and like us: