There is something special about red potatoes. I'm not exactly sure why, but it probably has to do with the many summers I spent in Sweden eating this staple.
Probably the best way to eat red potatoes – in my mind – is with a generous pile of pickled herring, a drizzle of butter, a pile of fresh dill, and sour cream on top of all of it. But that's not where this recipe is going….
Since it is definitely not summer weather today, dinner from the oven sounds like a great plan.
I'm always looking for ways to conserve time and energy in the kitchen. I'm forever disgusted by celebrity cooks who turn on the oven to roast a single head of garlic. You've got to be kidding me! Take advantage of multiple oven racks and roast/bake a few things at a time!
If you are baking honey glazed chicken thighs, put these potatoes in at the same time! Save time. Save energy. Serve amazing food!
The difficult thing for me is that I can make these potatoes 10 times before getting a picture of them. They are so delicious that one nibble leads to the next . . . . someone else joins me in the kitchen for a taste-test . . . . and all of a sudden, the potatoes are gone! No photos. Again!
These are two-step potatoes – boil then bake – but the result is nicely golden outsides with fluffy and tender insides. Notice that there is no oil involved in this recipe. It surprises me too, but for some reason, these potatoes don't need to be greased up to achieve wonderful taste and texture.
Scrub red potatoes, then cut into quarters – or so they are about equal sized pieces. Boil on the stove for 8 minutes. They won't be soft at this point, but almost cooked.
Combine all the spices in a large bowl, then transfer the potatoes to that bowl. Gently toss them around so they get covered with the seasonings. Place them cut side down on a baking sheet, and roast for 20-30 minutes.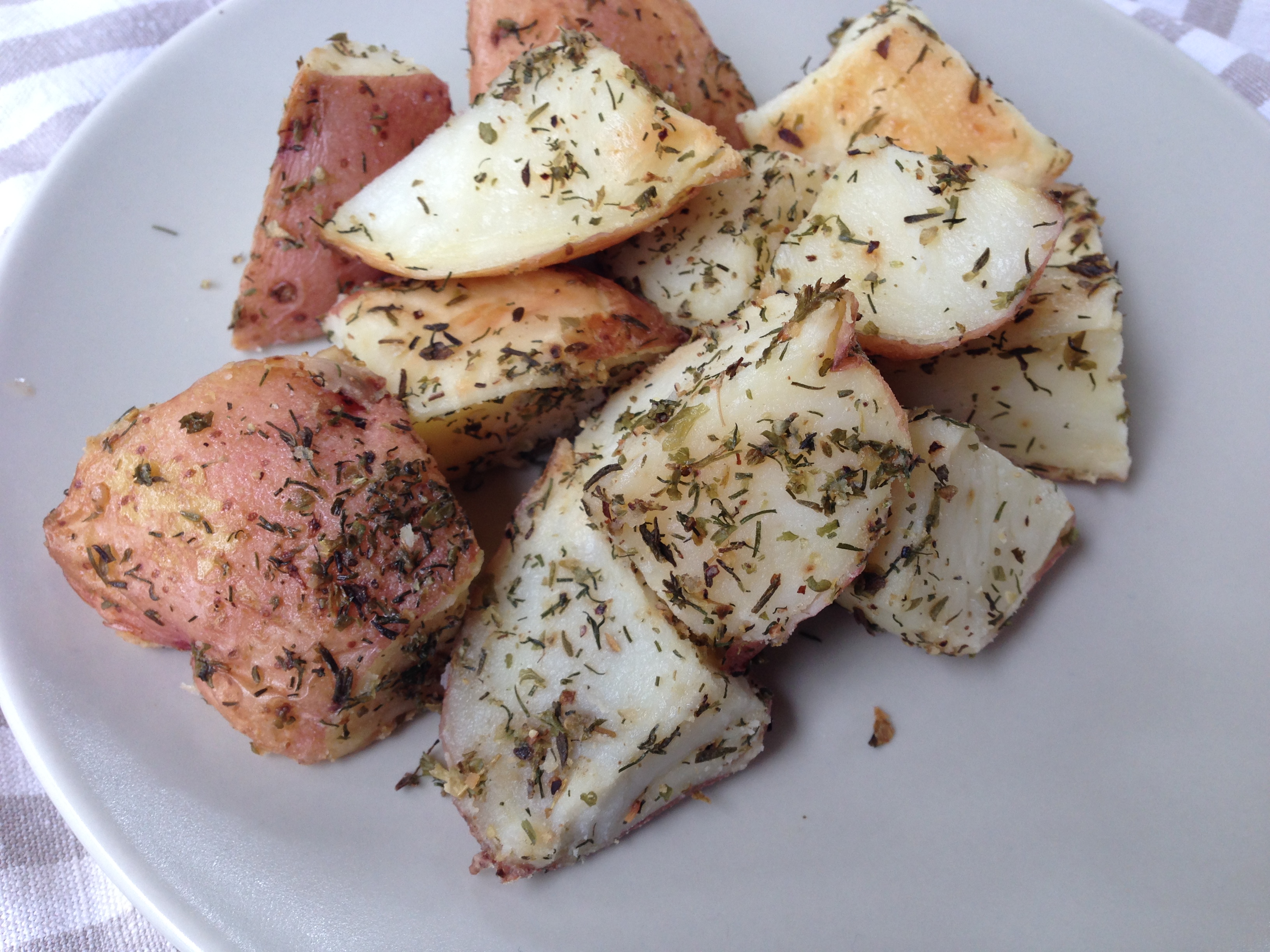 Oven Roasted Herb Potatoes
Ingredients
2-3 pounds red potatoes
1 tsp dried dill
1 tsp marjoram
1 tsp garlic powder
1 tsp thyme
1 tsp parsley
1/2 tsp oregano
1/2 tsp salt
Instructions
Preheat oven to 400 degrees
Scrub potatoes and cut into quarters, or equal sized pieces
Boil in a large saucepan for 8 minutes, then drain
While potatoes are boiling, combine all the spices in a large bowl and set aside
Transfer drained potatoes to bowl with seasonings, and gently toss until all the pieces are coated
Place potatoes cut side down on baking sheet and roast for 20 minutes
Stir potatoes around, and return to oven for a couple more minutes
http://www.culinaryconcerto.com/oven-roasted-herbed-potatoes/
Please follow and like us: