"Pressure" is one of those odd words in the English language. Sometimes used to describe physical force exerted, influence, or persuasion, this time of year we tend to think of stressful urgency. After all, isn't that what cooking around holiday time seems to feel like?
I am one of those borderline obsessive cooks who finds a thrill in presenting a complete, beautiful, and delicious meal that is perfectly timed. I actually make a schedule so that each dish is finished and no detail forgotten!
When possible, making part of the meal days in advance allows the actual event to be filled with less pressure. And, of course, if a guest asks, "What can we bring?" don't be proud – assign them a dish! This past Thanksgiving, my mother brought dressing and friends brought pies and other treats.
Thanksgiving dinner is a little more complex – and comes with higher expectations – than most meals, so here is a sample of my plan:
Wednesday
Roast several heads of garlic while baking sweet potatoes (on a foil-lined baking pan). Scoop out the potato flesh and refrigerate.
Measure out dry ingredients for sweet potato casserole and gluten free muffins, setting aside in ziploc bags.
Chop veggies for turkey and store in the refrigerator.
Set several sticks of butter on the counter to soften.
Make hot buttered rum, then store in refrigerator to be gently heated later.
Thursday
7:00am – Prep (21 pounds!) wine-basted turkey and put in the oven, basting as the morning progresses.
8:00am – Get pressure cooker mashed potatoes going. Put lemon and cucumber in several pitchers of water and chill.
9:00am – Soak oats for muffins, mix up sweet potato base. Mash potatoes in the crockpot and set to "warm". Get the table set, buffet line ready, and set up beverage stations.
10:00am – Take a shower! Yes, I actually schedule that in to my day!
11:00am – Mix muffin batter and bake, finish assembling sweet potato casserole and bake.
12:00pm – Get turkey out of the oven, oooh and aaah for a few moments. Let the turkey stand while making salad (no dressing yet).
12:30pm – Recruit someone to carve the turkey while getting the rest of the food onto the counter/buffet. Make gravy, dress the salad, and fill glasses with water.
1:00pm – Take time to thank God for His many blessings, then eat!
And just like that, everything is done, hot, and beautiful at the same time.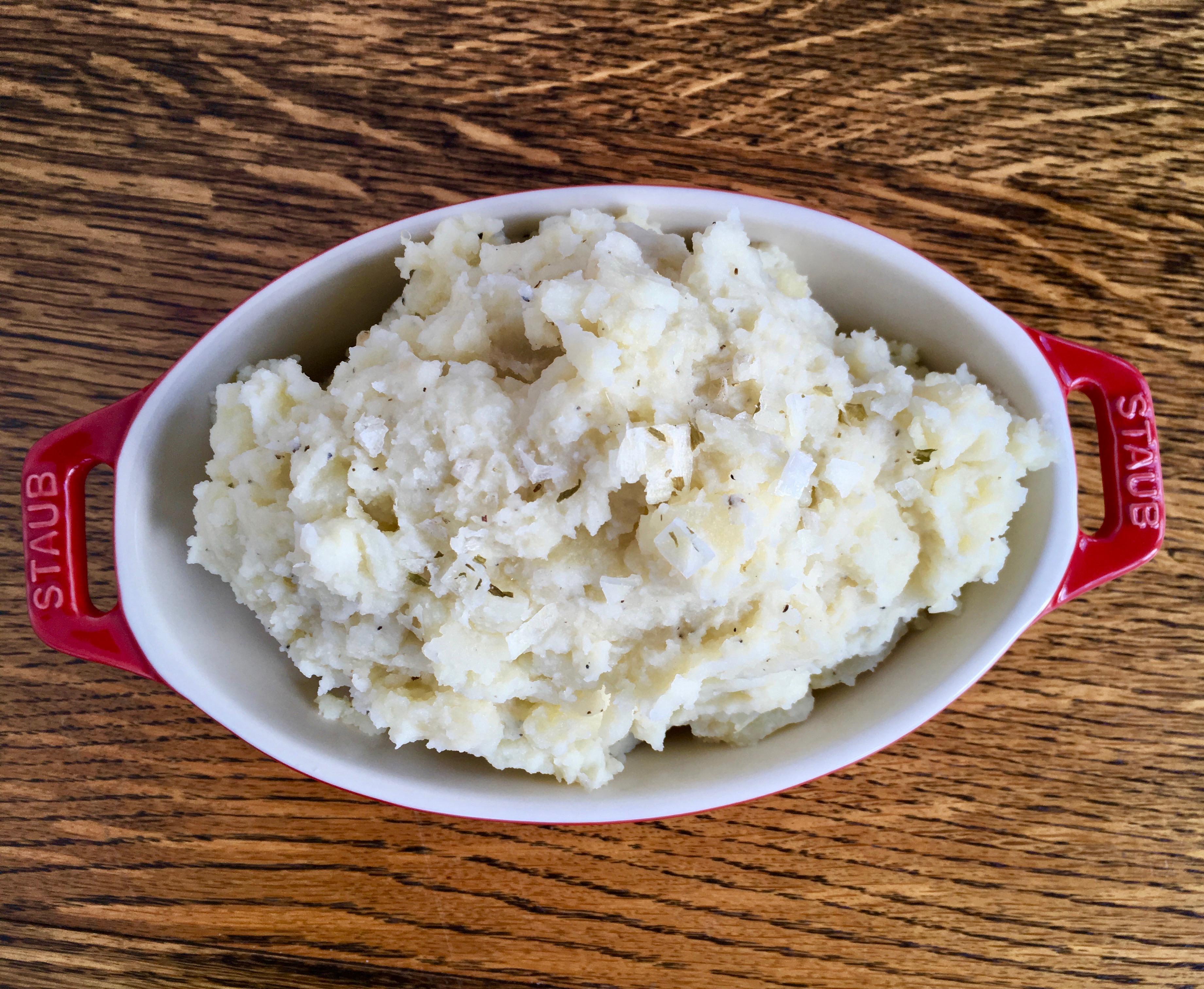 What's the deal with pressure-cooked potatoes? They. Taste. Better. Seriously! Think about the traditional boiling method: so much of the flavour is poured down drain. Russet potatoes are very starchy, and respond beautifully to steaming. In the words of my daughter, "NEVER make mashed potatoes any other way!"
Yes, they are that good!
Here's a little note on mashed potatoes – we like them garlicky, buttery, and chunky. If you like fluffy potatoes, use a ricer to get rid of the chunks. My mother-in-law used the electric beaters to whip potatoes. To each their own! I'm just saying that the organic texture – along with incredible flavour – is when potatoes can hold their own against all other foods.
Pressure Cooker Mashed Potatoes
Ingredients
6-8 large russet potatoes, peeled and cut into same-sized chunks
1 tsp salt
1/2 tsp pepper
1 cup water
1/2 cup heavy cream
1/4 cup butter
4 Tbsp olive oil
1 large branch of rosemary
1 head roasted garlic
Instructions
Place steamer basket in pressure cooker and pour in the cup of water.
Add potatoes, making sure they do not exceed the max fill line, then sprinkle with salt and pepper.
Seal up cooker and set for 5 minutes on high pressure.
While potatoes are steaming, heat cream, butter, olive oil, and rosemary in a small pan. Allow it to steep as long as possible before removing the rosemary.
Use the quick release method and scoop out potatoes to a bowl. Squeeze in roasted garlic, and mash while potatoes are still very hot. (Use a ricer for lump-free potatoes.) Add as much of the cream as needed.
If making this in advance, transfer potatoes to a crockpot, mash, cover, and keep on low.
http://www.culinaryconcerto.com/pressure-cooker-mashed-potatoes/
Please follow and like us: